Bambalapitiya, affectionately known to all its residents, and even those living within the other zones of Colombo, as "Bamba" is a small town located on both sides of the Galle Road between Colpetty, or its anglised version, Colpetty (Colombo 3) on the North and Wellawatte (Colombo 6) on the South, spanning about one and a half kilometers of the Galle Road.The West is ringed by the big beautiful waters of the Indian Ocean while the East borders Havelock Town on the North and Kirulaponne on the South, connected by Havelock Road. Bamba is also classified as Colombo 00400 on the zonal map of Colombo and lies within the Municipality of Colombo.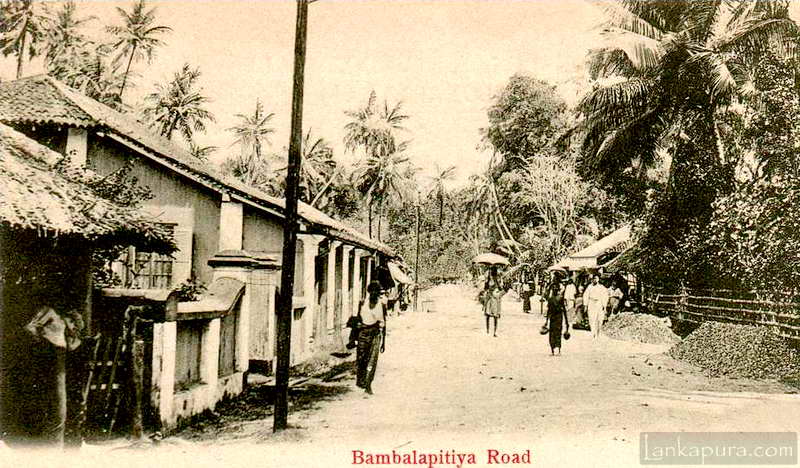 Bambalapity in the early 19th century was a thick jungle infested with venomous snakes. Kadju Pulang trees were common to this area and it was the belief that outlaws hiding in this dense jungle would hijack and plunder bullock carts carrying produce between Galle and Colombo, It appears that these bandits would murder these traders and hang the bodies on the Kadju Pulung trees, The song sung at school matches, "we will hang all the Thomians on the Kadju Pulang trees … " is said to have had derived from this legend.
Vast tracts of Bambalapitiya were owned by the Senanayake family, relics of our first PM, D.S.Senanayake.The descendants of this family, Haig, Brian and Shelah still live in their ancestral home down Mary's Road.
Herbert Bartholomeusz J.P and retired Engineer PWD bought 10 acres of land for Rs 6.00 per acre in 1896. Today land in Bamba is worth about multi millions per perch (one acre = 160 perches).
Credit – F's Place, George Pereira