The Kelani Valley line (KV) was originally built from Colombo to Yatiyanthota via Avissawella during 1900–1902. It was branched off at Avissawella and extended up to Opanayaka via Ratnapura (completed in 1912).
Originally built as a 2 ft 6 in (762 mm) narrow-gauge line to serve the rubber plantations in the area, the railway line between Avissawella and Yatiyanthota was removed in 1942. The line from Homagama to Opanayaka was abandoned in 1973. The services were restarted up to Avissawella in 1978.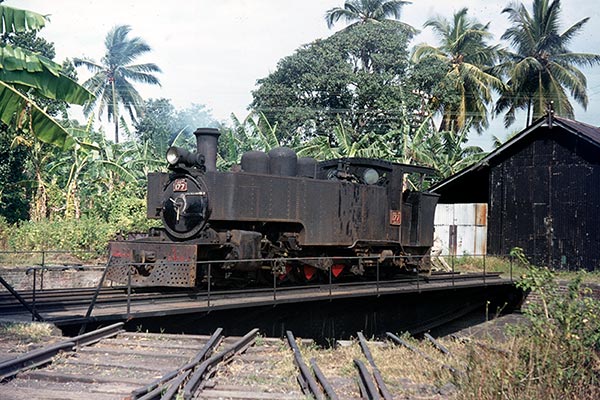 During the narrow-gauge era, the line had its own fleet of narrow-gauge locomotives and rolling stock. The steam locomotives of Class K and Sentinel railcars class V1 and V2 were also used.
The main reasons behind the extinction of narrow gauge railways were due to the lack of speedy operations. This was due to the sharp curves occurring regularly along the tracks. In order to overcome this problem in 1992, a project was started to convert the line to 1,676 mm (5 ft 6 in). The project was finally completed up to Avissawella (58 km or 36 mi) in 1996. During this transformation, for a short period, both lines were kept available using one rail in addition to broad gauge track.
The tracks beyond Avissawella were completely dismantled, leaving only ruined stations, bridges, and bunds. After the conversion rolling stock of narrow gauge were restricted to a shed only and some of them were sold as scrap and only a few locomotives of steam and diesel and one steam rail car were kept in the running shed at Dematagoda and did not even start the engines of these locomotives afterwards.
The timeline of Kelani Valley line until broad-gauge conversion
1898 – Intial discussions of KV & UPR lines
1902 – KV line first stretch up to Avissawella was opened
1903 – KV line Yatiyantota stretch was opened
1912 – KV line was extended up to Ratnapura
1919 – KV line extended to Openayake
1941 – Last passenger train operated in Yatiyantota stretch
1975 – KV line was operational only up to Homagama
1978 – Again KV line was operational up to Avissawella
1993 – Broad gauging was started in KV line
1997 – Broad gauging was completed up to Avissawella & Rolling stock of narrow gauge was stationed to sheds.
The Kelani Valley line is entirely single track, at 1,676 mm (5 ft 6 in). As train frequency increases, it is becoming increasingly challenging to operate trains running both direction on the single-line track.
Currently the line serves an increasingly urbanized population leading up to Avissawella. All services run on diesel power. Current operating speeds are limited due to the sharp curves on the line.
Credit – Wikipedia, RailPictures, Kelani Valley Railway, Duran Nanayakkara, Colombo Fort