With seven-year tax-free status, Air Lanka (IATA code: UL) was formed in Colombo on January 10, 1979 by combining the assets of Sri Lanka Airways, Ltd. and Sri Lanka International Airways, Ltd., which had been formed the previous January and had begun operations in April. The founding purpose of Air Lanka was to spur tourism.
The venture was brought to life as a result of President J.R. Jayawardene's special order to create a national airline. The order was given after Air Ceylon Ltd. (founded in 1949), ceased its trading at government request on March 31, 1978.
Principal owners were the government (60%), two national banks and the Ceylon Shipping Corp. (40%), with initial capitalisation set at $15.7 million. At the time, Air Lanka built many partnerships with international airlines to learn and grow from foreign expertise and technology. Captain S. Rakkhita Wikramanayake was named chairman/managing director under a management contract signed with Singapore Airlines, Ltd. for which he had previously flown. International flight services began on September 1, 1978 with two leased Boeing 707-312 Stratoliners from Singapore Airlines.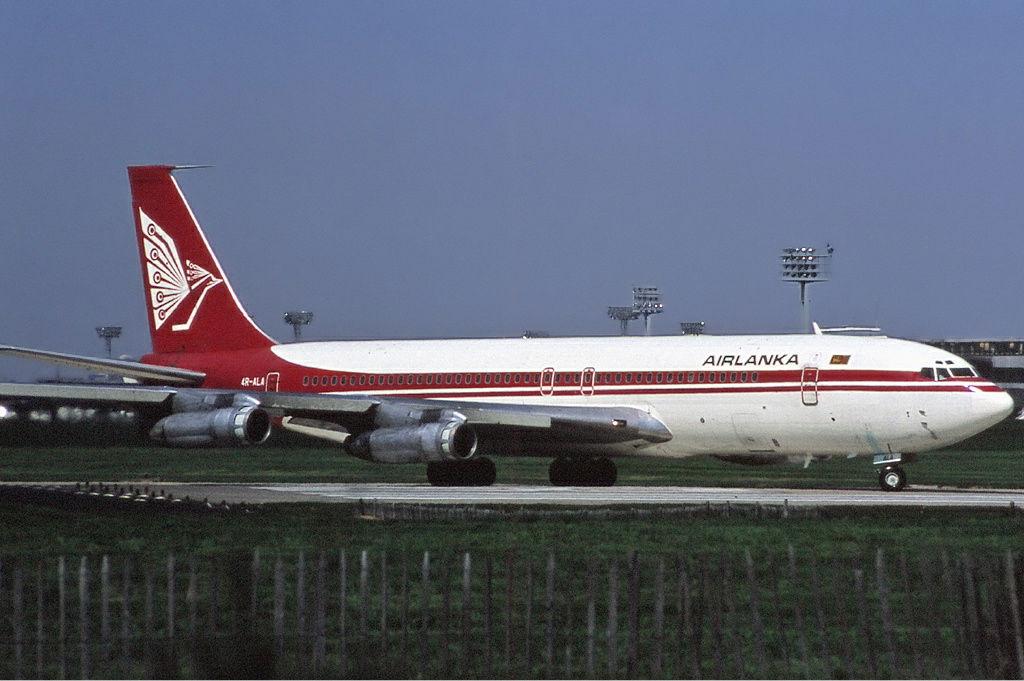 The initial fleet consisted of two Boeing 707, leased from Singapore Airlines. Another Boeing 737 was leased from Maersk Air and maintained by Air Tara. On 24 April 1980, the lease ended; Air Lanka received a replacement Boeing 737 on lease from Royal Brunei. On 1 November 1980, Air Lanka commenced wide-body operations with a leased Lockheed L1011-1 Tristar from Air Canada.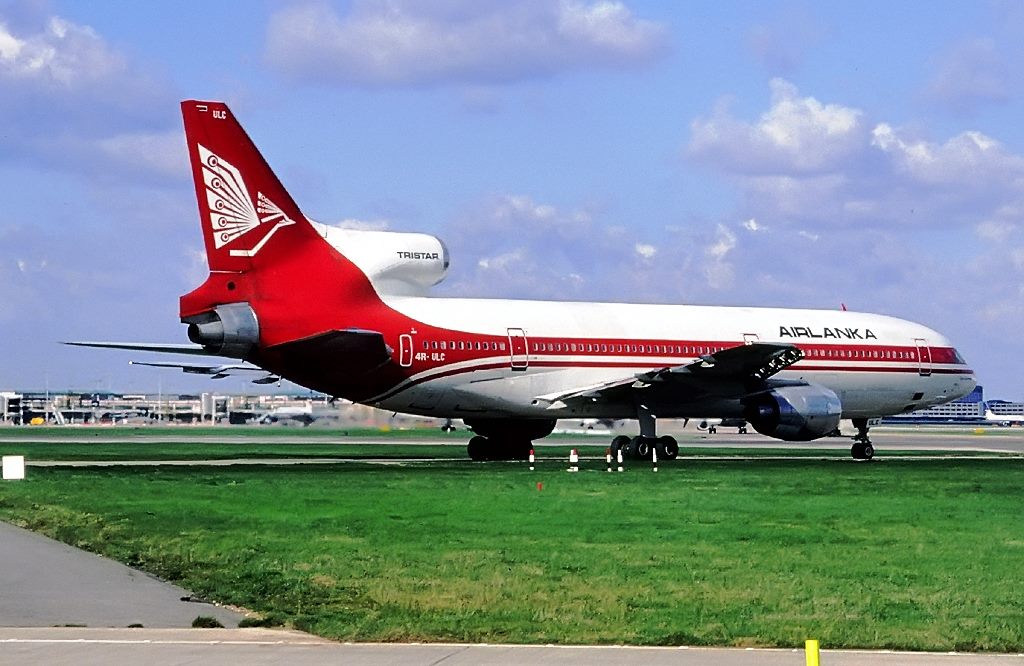 On 28 March 1980, Air Lanka signed a purchase agreement for two brand new Lockheed L1011-500 Tristars, the most advanced wide-body aircraft in the world at the time. The first Lockheed L1011-500 (4R-ULA) was accepted on 26 August 1982, at Palmdale, California. It was flown to Amsterdam as UL flight 566P. On 28 August, 4R-ULA City Of Colombo left for its inaugural flight from Amsterdam to Colombo as UL566. It reached Colombo on 29 August. This was followed by the second Lockheed L1011-500, 4R-ULB, named as City Of Jayawardanapura.
The initial livery consisted of red stripes on a white fuselage. The tail was solid red and sported the corporate logo, a stylized vimana locally known as Dandu Monara, the flying machine of the mythical king of Sri Lanka, Ravana. This was the sole livery of the airline for nearly two decades, from January 1979 to October 1998.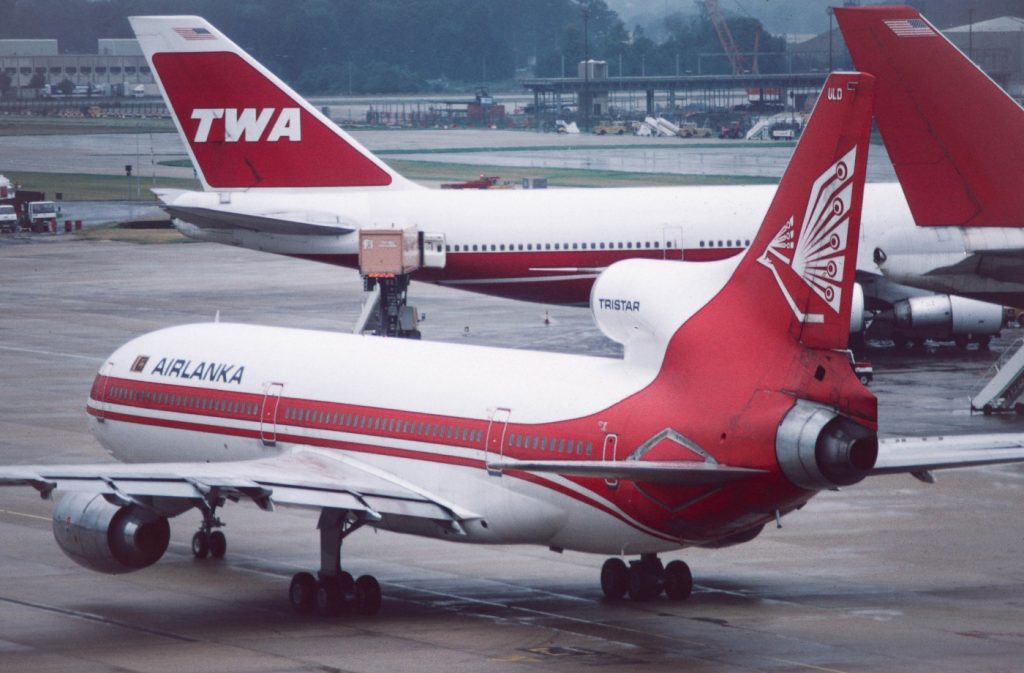 Expansion of the Colombo technical base was begun in 1983 with the aim to complete the project during 1985. At the time the fleet included five Lockheed L1011s and one Boeing 737-200. Arrangements were completed for a purchase of two Boeing 747-238B from Qantas Airways Ltd. A total of 598,000 travellers were carried on the year; freight jumped 14.9% to 45.42 million FTKs (One FTK is one metric tonne of revenue load, carried one kilometre).
Airline employment reached 2,602 in 1984. A major cost-cutting campaign was undertaken and the first Australian Boeing 747-238B was delivered on June 8; named King Vijaya, it was placed on the European routes to Zurich, Paris, and London, as well as services to Dubai, Muscat, Karachi, and Singapore.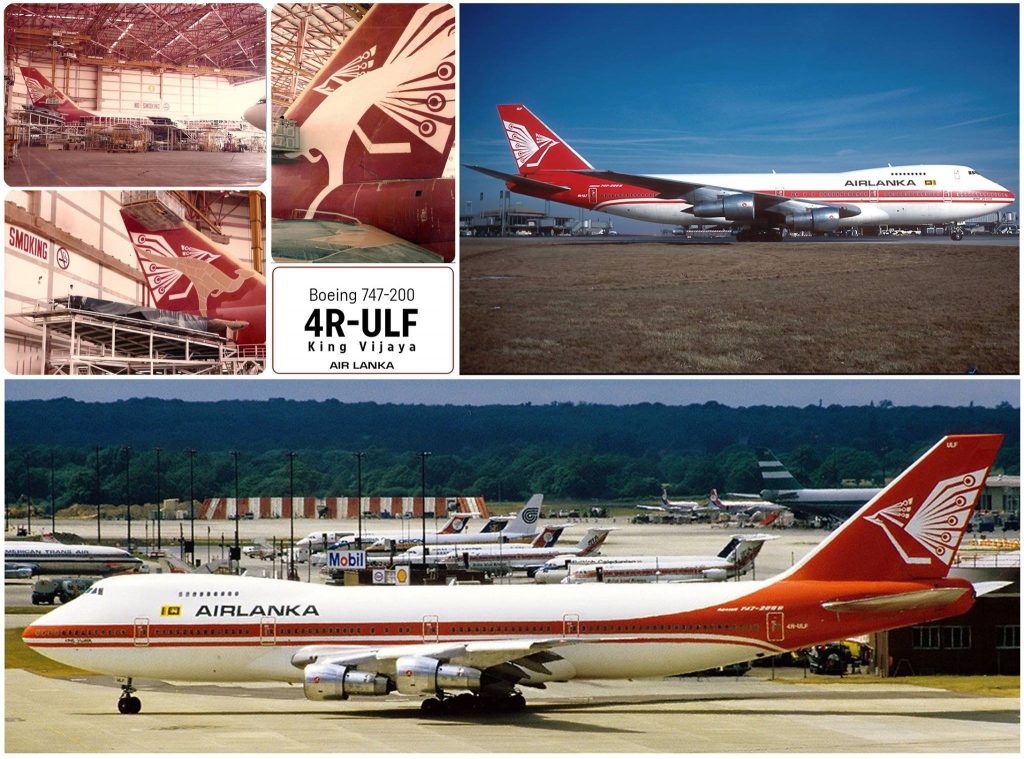 The Singapore destination was suspended late in the year. Freight traffic soared 34.7% to 60.23 million FTKs and passenger boardings jumped 10.7% to 681,000. The workforce grew 13.8% in 1985 to 3,798.
In cooperation with Malaysian Airline Systems (MAS) under a marketing agreement signed in February, 1985; joint service is inaugurated in April between Colombo and Kuala Lumpur; the second ex-Qantas Boeing 737-238B is delivered on October 23, 1985 and named as King Tissa.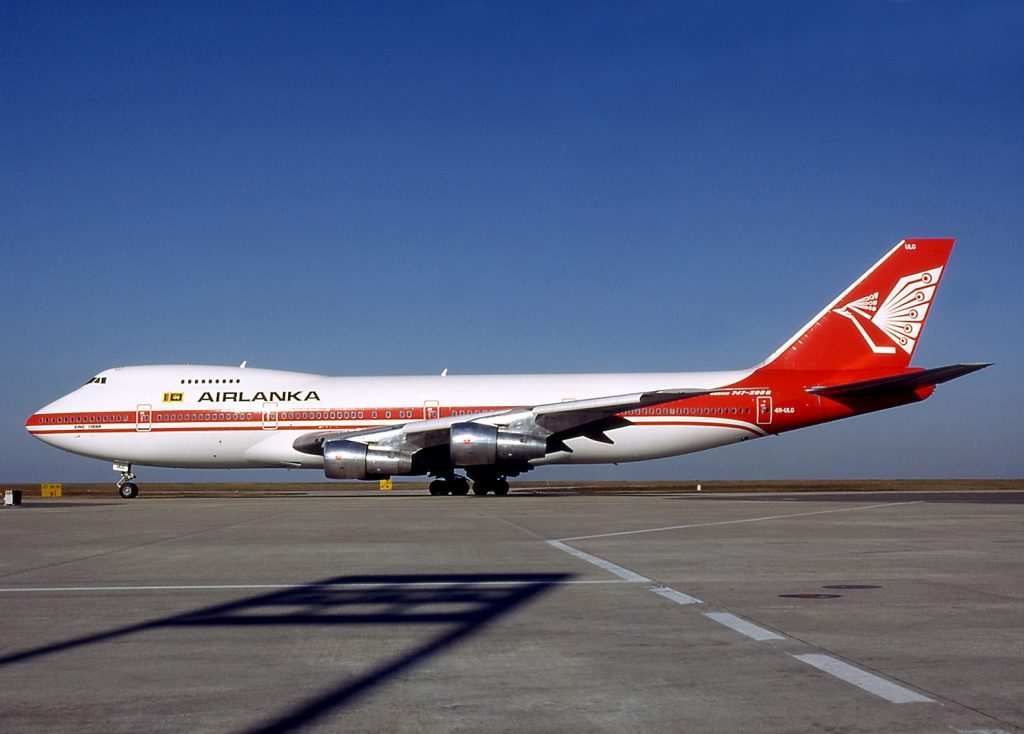 Services to Singapore were resumed, but the addition of the second Jumbo Jet created an overcapacity problem that was solved by leasing two TriStars to British Airways, Ltd. for a period. of three years.
The technical base at Colombo was completed and featured a $13.5 million, Canadian-built hangar, which was large enough for three wide-bodied aircrafts. The airline's catering and duty-free services received special recognition and awards; however, ethnic violence increased dramatically.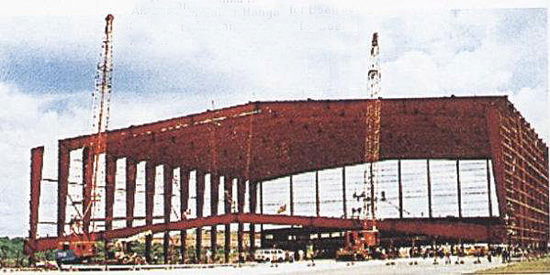 Cargo was up 9.3% to 65.66 million FTKs and passenger bookings rose 2.5% to 698,614. Employment grew 1.7% in 1986 to 3,861. At the end of March, two Boeing 747 Jumbo jets were taken out of service and leased, the King Vijaya to Qantas Airways for 20 months and the King Tissa to Egypt Air for a year.
On 3 May 1986, a bomb planted by the Liberation Tigers of Tamil Eelam exploded on board in Flight UL512 (L-1011 Tristar 100 City of Colombo) before takeoff at Bandaranaike International Airport. Reports believe that the bomb was hidden in the aircraft's 'Fly Away Kit', which was uploaded to the C3 cargo hold and placed among the consignment of meat and vegetable crates – the regular exports to the neighbouring Maldives archipelago.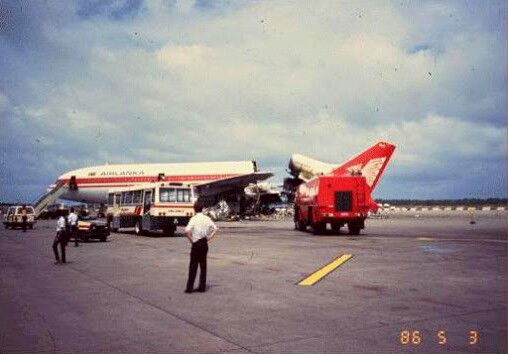 The powerful blast had ripped the aircraft in two, sending plumes of black smoke skyward. Most of the rear cabin was no longer there. Debris was falling from the plane and smoke was gushing out of the air vents. The impact had also shattered glass panels in the main terminal building. Part of an aircraft door was found on the control tower.
21 people were killed in the explosion, including 3 British, 2 German, 3 French, 2 Japanese, 2 Maldivians and 1 Pakistani. One Air Lanka cabin crew member Johann Chunchee also lost his life. Another 41 passengers were injured. The flight was said to have carried 128 people on UL101. It was clear during the investigation that the bomb had been timed to detonate mid-flight and had the flight taken off on time, all passengers and crew would have been killed.
The airline's first fatal incident was a public relations disaster. The government ordered all Tamils employed at non-executive levels placed on paid leave, which severely impacted the carrier's engineering department. A customs agent was later arrested as the perpetrator.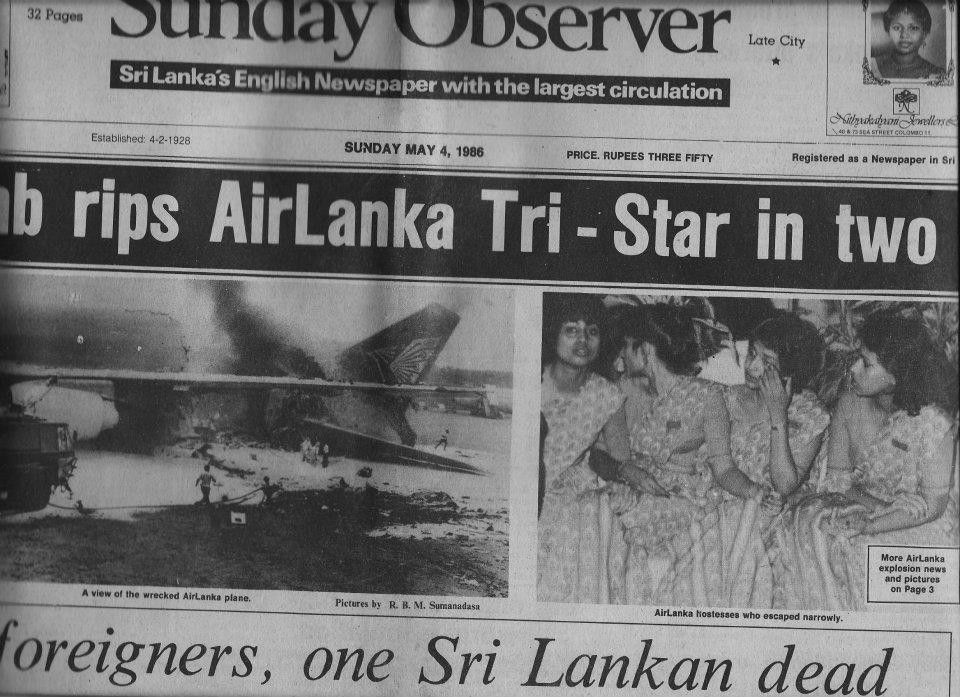 The Boeing 747-238B King Tissa, leased to Egypt Air, became available and was reintegrated as the search for Tristar replacements began. Route and other expansion plans were placed on hold as the government initiated an official presidential investigation into corruption and inefficiency. Having been made the scapegoat for the company's bad luck, Chairman Wikramanayake resigned on November 26, 1986 and on the financial front, the company lost the tax-free status granted at start-up.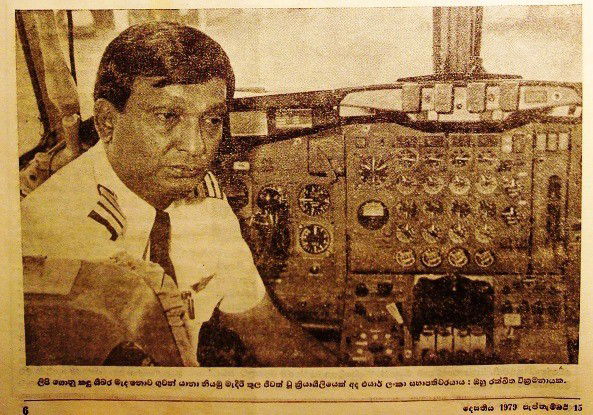 Customer boardings declined 12.5% to 611,434 and freight dropped 20.1% to 52.48 million FTKs. An operating loss of $3.8 million was suffered. The payroll inclined upward again in 1987 by 3.5% to 3,626. The two leased Jumbo Jets came back in and were sold back to Qantas Airways. Having been found wanting by the previous year's government investigation, Air Lanka received a new board of directors in January 1987; Lakshman de Mel succeeded Wickramanayake, but after November's national elections, he was followed in December by John Fleming.
Passenger boardings dipped an additional 3.8% to 588,440 and cargo was off 11% to 46.73 million FTKs. Revenues advanced 3.4% to $132 million and costs dropped 1.8% to $129 million. The operating profit was $2.99 million.
The personnel boost was smaller in 1988, but still 0.6% was higher, to 3,648. New service was extended to Riyadh. A long-term equipment program was planned that would bring in 10 new jetliners to replace the Lockheeds. Customer bookings rebounded, climbing 19.4% to 702,606, as freight increased 29% to 59.93 million FTKs.
In 1989, the workforce was decreased by 9.3% to 3,308 and the fleet included two Lockheed 1011-500s, each Lockheed 1011-50/100 and Boeing 737-2A6A. In May, a code-sharing agreement was signed with Gulf Air Ltd. covering joint operations in Bahrain and Muscat. The contract of CEO John Fleming was not renewed when it expired on June 30, 1989. Another new chairman/managing director, Dunstan Jayawardena, was named and he received a mandate from President Ranasinghe Premadasa to make the airline succeed or shut it down.
Passenger boardings ascended 6% to 744,494 and freight moved upward 22.2% to 73.22 million FTKs. Income slightly exceeded costs and an operating profit of $3.3 million was generated – the first annual profit ever achieved.
Company employment inched upward by 0.6% in 1990 to 3,572 as Chairman Jayawardena's fleet was enhanced through the addition of a third Lockheed 1011-500, leased from Royal Jordanian Airlines. The new unit was employed to inaugurate services to Australia in the spring – 35 frequencies to Sydney and Melbourne.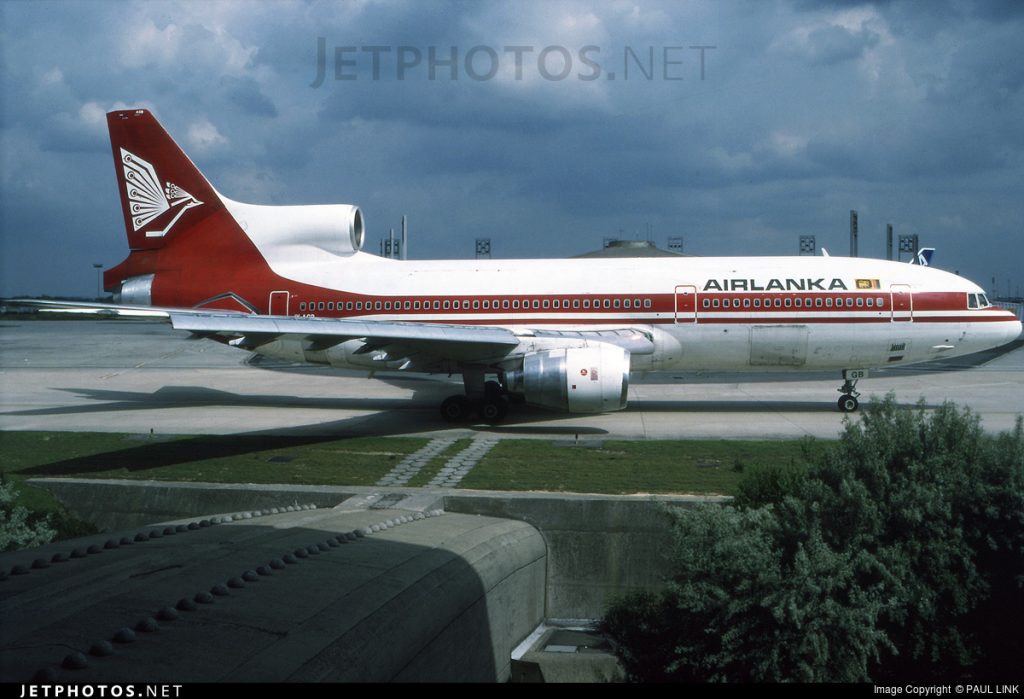 Revenue pooling began with Pakistan International Airlines (PIA) in July 1990 on routes from Colombo to Karachi, Karachi to Bombay, and Male to Colombo.
Customer bookings rose 19.7% to 891,791 and cargo swelled 24.5% to 91.19 million FTKs. Revenues advanced 52.6% to $209.9 million and with expenses low, operating income swelled to $11.26 million and net profit reached $7.2 million.
The payroll was cut 7.6% in 1991 to 3,300. The fleet was unchanged since 1989, although orders were outstanding for 2 Airbus Industries A320-231s and 5 A340-311s. A Swede, Erkki Mandelin, was appointed as the vice president of engineering and maintenance.
Traffic moved ahead as passenger boardings inched up 0.7% to 897,802 and freight jumped 8.2% to 98.7 million FTKs. Income exceeded expenses and there were profits: $12.3 million (operating) and $7.7 million (net). The employee population was increased by 12.8% in 1992 to 4,229 and the fleet included seven Lockheeds and two Boeings. Two more Tristars were leased from British Airways, Ltd. in August 1991. Brian Coombes was appointed CEO in November.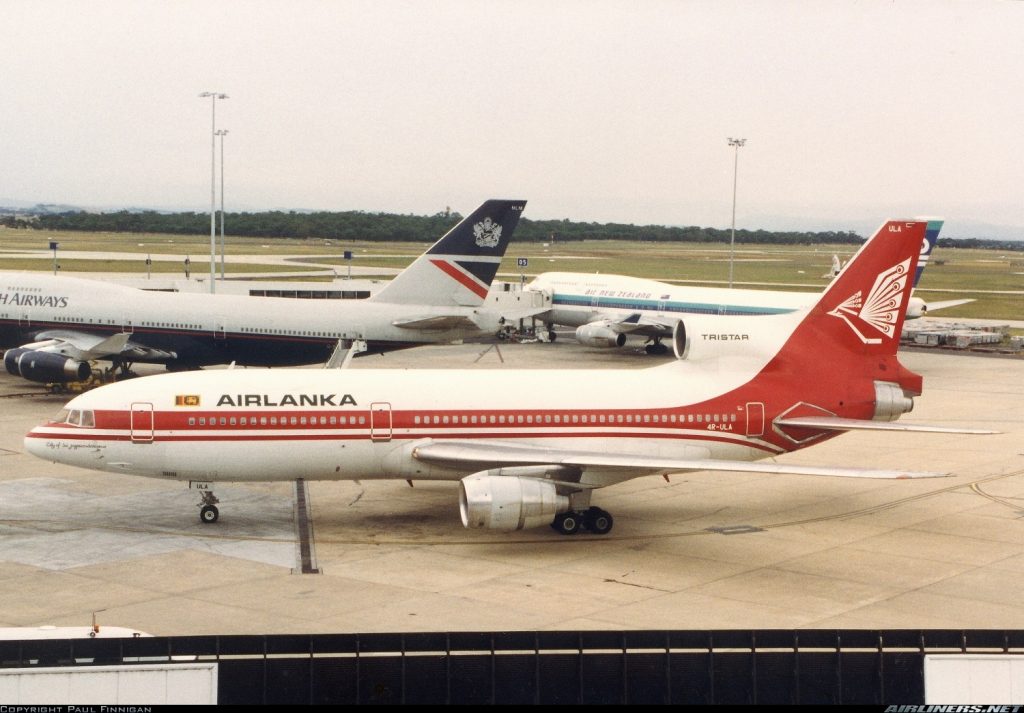 Customer bookings increased 17.3% to 1,053,189 while cargo advanced 11.3% to 109.85 million FTKs. Revenues ascended 20.3% to $289.5 million and expenses rose 26.1% to $287.9 million; the operating profit was cut to $1.64 million and there was a $4.4-million net loss.
In 1993, the workforce of Chairman Attygalle was cut by 3.3% to 4,091. The airline received its first Airbus A320-231 in January and the second A320 in April 1992. The Airbus A320-200 began flying on the airline's regional routes in Maldives, Pakistan and southern India. During the summer, the lone remaining Boeing 737-200, employed on regional routes, was withdrawn and Royal Jordan Airlines Lockheed was returned.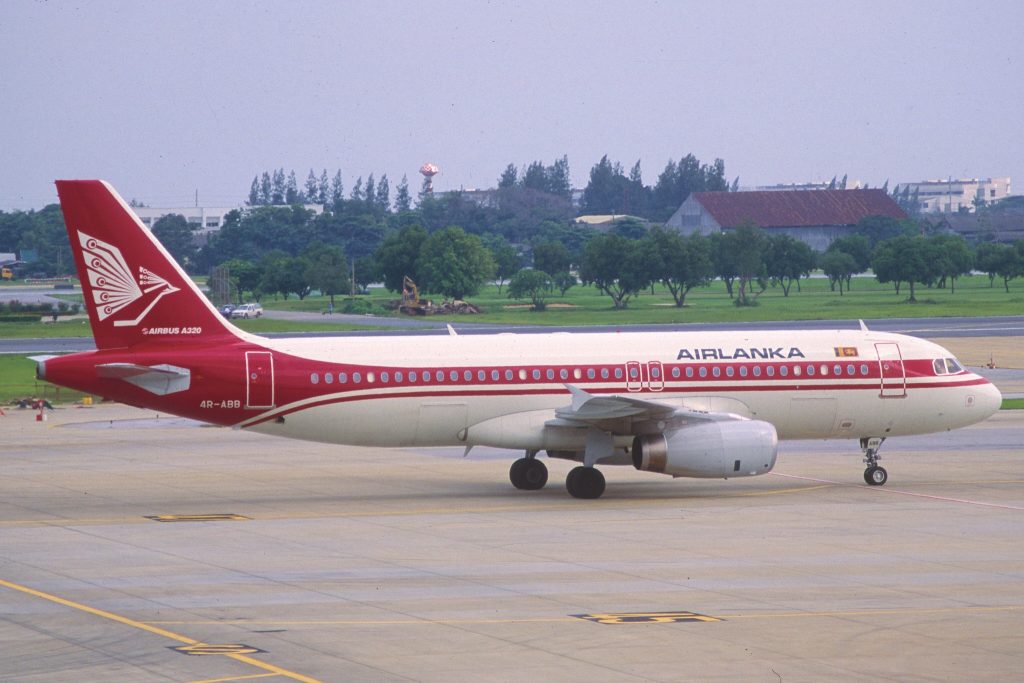 The route structure was rationalised and the markets visited were Berlin, Munich, Vienna, Brussels, Sydney, Melbourne, and Jakarta. Destinations visited from Colombo include Abu Dhabi, Amsterdam, Bahrain, Bangkok, Bombay, Delhi, Dhaka, Dubai, Frankfurt, Fukuoka, Hong Kong, Jeddah, Karachi, Kuala Lumpur, Kuwait, London, Madras, Male, Muscat, Paris, Riyadh, Rome, Rumjatar, Singapore, Tiruchirapalli, Tokyo, Trivandrum, and Zurich.
Partial privatisation began and, in November 1993, code-sharing and joint operations began with Middle East Airlines, on a route from Colombo to Beirut. Passenger boardings climbed 5.1% to 999,585 while freight declined 4.9% to 104.43 million FTKs. Revenues fell 8.5% to $264.9 million and with costs under control; an operating surplus of $13.7 million was generated. Net gain reached $5.4 million. The employee population grew a strong 8% in 1994 to 4,417.
On August 19, 1993, following lengthy negotiations with the manufacturer and the completion of arrangements with a consortium of international banks, the company became the first in Asia to take delivery of an Airbus A340-311. The World Bank criticised the acquisition as extravagant and the orders for two more of the aircraft beyond the original three were cancelled. The premier Airbus A340-311 entered service on September 25, 1994 on the routes from Colombo to Amsterdam, Paris, Hong Kong, and Tokyo.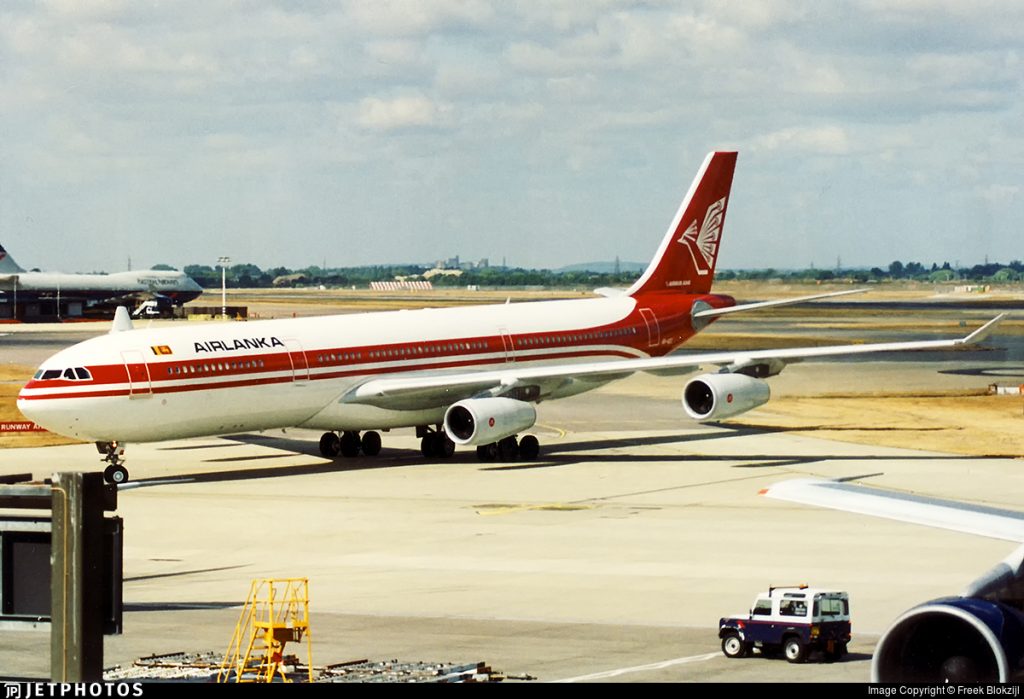 For the year, overall customer bookings ascended 7.4% to 1,073,489 while cargo recovered, up 5.3% to 109.95 million FTKs. Revenues rose 2.5% to $271.4 million and permitted profits of $24.07 million (operating) and $7.24 million (net).
Another 28 employees joined the company in 1995. The recovery from depression being enjoyed by the world airline industry continued to make its way, at least partially, to Sri Lanka. Meanwhile, in January, the government announced airline privatisation plans.
Passenger boardings increased by 8.4% to 1,163,586 while freight swelled 42% to 156.16 million FTKs. Operating revenues advanced by 7.3% to $291.15 million and expenses were up by 2.1% to $252.55 million. Although operating income climbed to $38.6 million, net gains fell to $2.02 million.
Airline employment stood at 4,000 in 1996 and the fleet included three Airbus A340-311s, two each Airbus A320-211s and Lockheed L-1011-500s, and one each Lockheed 1011-1 and 1011-100.
In April, the company entered into a code-sharing arrangement with British Midland Airways, Ltd. covering flights from Colombo via London (LHR) to Belfast, Edinburgh, Glasgow, Leeds/Bradford, and Teesside.
Customer bookings inched up 1.7% to 1,183,283 and 159.4 million freight FTKs were operated, a 2% increase. Operating income slid to $285.5 million, but costs allowed a $28.1-million operating gain and a $2.9-million loss.
The workforce swelled 24.1% to 4,965 during 1997. For the third time in two weeks, a near-midair collision over India occurred on January 11. Air Lanka Airbus A320-211 on approach to Bombay from Trivandrum is mistakenly authorised by an air traffic controller to land at that city's airport. At the same time he had granted permission to land to a Kuwait Airways Corporation Boeing 747-269BC; a collision was avoided by several hundred feet.
The government, later in the year, made plans to sell up to 40% of the carrier early in 1998. Passenger boardings rose 4.8% to 1,239,613 while cargo did twice as well, climbing 9.6% to 174.24 million FTKs.
On March 30, 1998, the available 40% stake in Air Lanka, Ltd. was purchased by Emirates Airlines, Ltd. for $70 million. Under terms of the equity sale, the government of Sri Lanka held 51% majority control and the remaining 9% was distributed among the airline's employees. The Arab carrier's funding passed to Air Lanka, Ltd. in two tranches, beginning with $45 million up front on signing day. Air Lanka was rebranded to Sri Lankan Airlines.
Management of the carrier passed to Emirates under a 10-year contract when the arrangement was finalised in May 1998. On April 1, the carrier ordered 6 Airbus Industries A330-200s to replace its aging fleet of Lockheed 1011s and 2 Airbus A320-211s. The former, to be powered by $150-million worth of Rolls-Royce Trent 700 engines, were scheduled for delivery beginning in October 1999. Plans were made to begin flying to points in Africa, Australia, and New Zealand and to increase frequencies in Europe.
Customer bookings fell 6.7% to 570,000 while freight traffic was down 9.3% to 77.73 million FTKs. It was announced on January 27, 1999 that, after heavy (albeit undisclosed) losses in previous years, the company earned a $23.3-million net profit in 1998.
An announcement concerning the first major service enhancement in some time was made on May 14, 1999. Employing the first of the new long-haul Airbus jetliners to be delivered in October, the company would, on November 12, launch twice-weekly round trip service from Colombo to Stockholm via Dubai. Connections would be provided to the Maldives, Sydney, Singapore, Bangkok, and Hong Kong. From December 5, the frequency would be increased to thrice weekly.
In early May, arrangements were completed with Airbus Industries for the seven-year lease of a pair of A340-312s originally chartered to Gulf Air Company.
The first aircraft, wearing the new flying peacock logo of the airline, was delivered on June 13, 1999, on which day the company was officially renamed as Sri Lankan Airlines, Ltd.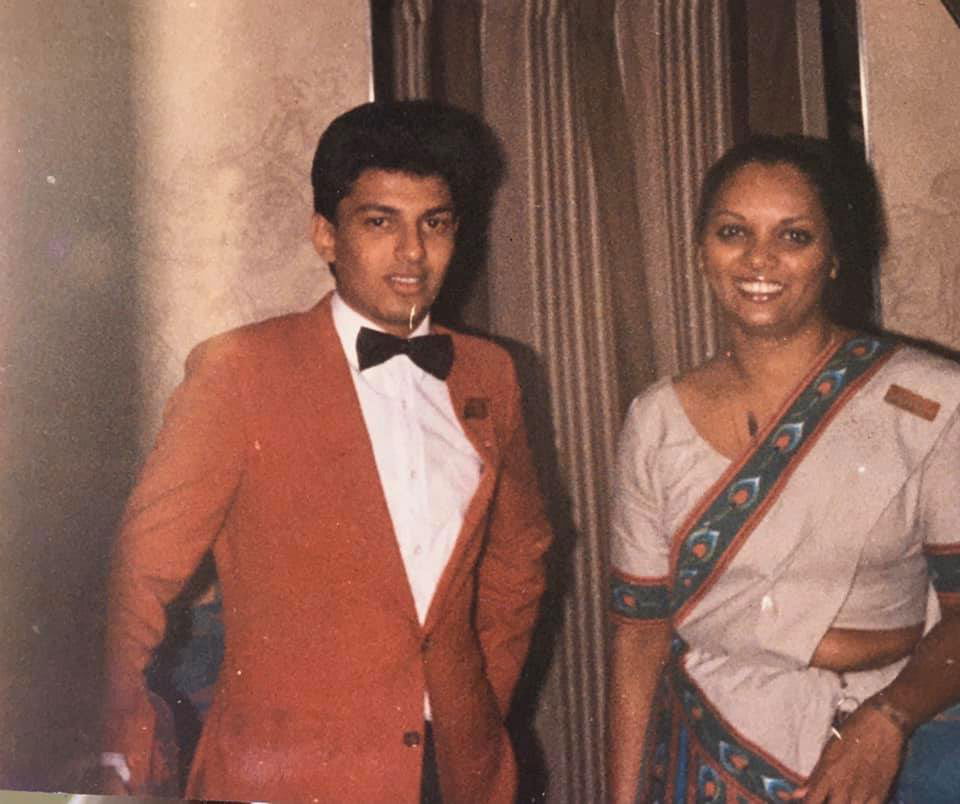 Credit – Wikipedia, ALKVA, Meanka Fernando, Ruwan Thilanka, Aviation Centenary Sri Lanka, Vanessa Aprille, GooneWJ, Forgotten Film, KnysnaHK2, Airbus Hamburg Finkenwerder News, Paul Link, Peter Bönelt, Freek Blokzijl, Praveen Rajapathiranage