As the 60th anniversary of D-Day was celebrated with much pomp, pageantry and parades in France on June 6, an 83-year-old war veteran now living in peaceful retirement in Kandy was recalling memories of his own experience at the battlefront. Private Senerat (K.S.) Kadigawa was among the paratroopers who were dropped on the southern coast of France when the Allies went on the offensive in 1944.
That a Sri Lankan (Private 267305 KS) was awarded the Oak Leaf emblem to be sewn on the ribbon of the War Medal 1939-45. This emblem is awarded when your name is "Mentioned in the despatches" sent from the front. This emblem is also called the MiD.
The old soldier recalls his honours with quiet pride, while admitting that his memory is becoming rather dim.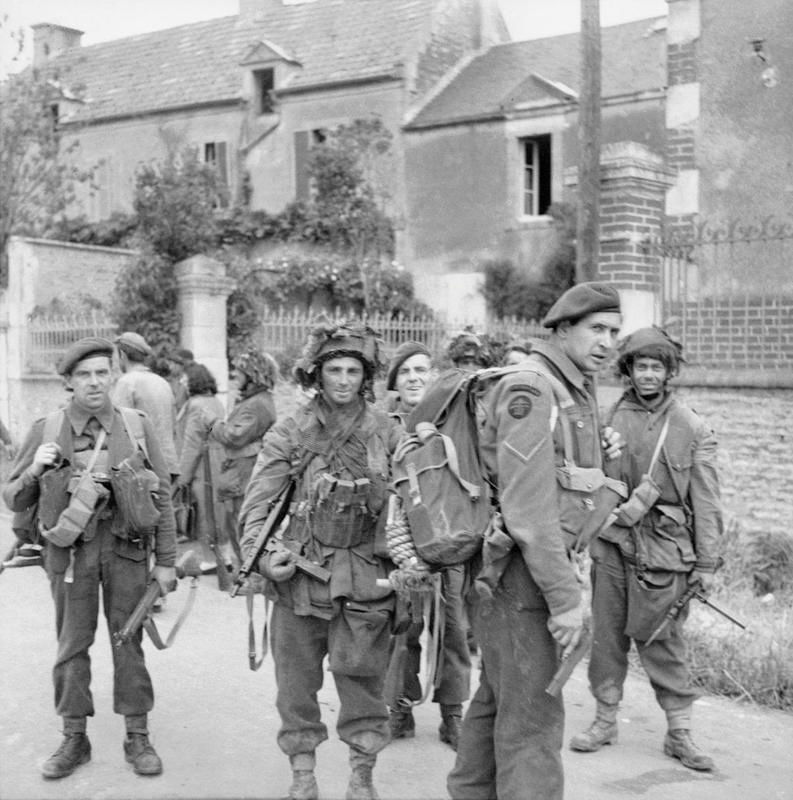 Mr. Kadigawa served in France before the war ended with the British Central Mediterranean Forces. He lost many of his companions, he says, remembering how a close associate, a British soldier was shot in the forehead while standing beside him.
"After that incident, I realised that I was not scared of anything. I understood that we had to do something to punish others who were not on our side. We had to fight them to avoid being attacked. We finally chased the Germans out of France."
A product of Ananda College Colombo, Senerat Kadigawa volunteered to join the Royal Army Service Corps (RASC) in 1941 soon after school. After a period of combat training in the Sinai Desert, he along with others in the RASC went into battle in Egypt and Libya. They had a minimum of weapons and hence had to leave their trucks and run for cover each time German bombers were sighted.
Around 1943 the British began to recruit paratroopers, in preparation for their invasion of Italy. "I was the only Ceylonese selected because they found me to be reliable, capable of making decisions and working independently." Thus he became the only Asian in a totally white 2nd Independent Parachute Brigade, also known as the Red Berets, which was part of the 5th Scottish Battalion.
"I was the only 'darkie' Asian in the all-white battalion," says Mr. Kadigawa. The others who were English and Scottish often made fun of him, as he did not smoke or drink liquor as they were accustomed to. Not that he was discriminated in any way, he hastens to add. As a member of the Central Mediterranean Forces, he won the affection and regard of many a British soldier for risking his life to defend the British army.
An incident proves this beyond doubt. After one of many fierce battles fought, the British soldiers, at a base camp in Sicily were in a queue waiting to be served dinner. Seeing Private Kadigawa, a colour-conscious white South African who handled the serving gestured to him to get out of the queue. The Scotsman standing beside Kadigawa grabbed the South African by the collar and threatened to beat him to pulp if he did not serve his comrade while others in line expressed similar sentiments in support of KS. A senior army officer intervened and the South African had to apologise to Private Kadigawa. This was the only occasion when he experienced prejudice, he says.
Their first landing in Salermo, Italy was a nightmare, Mr. Kadigawa recalls. Almost 100 paratroopers were drowned in a heavy gale that swept the coast. Subsequently he was put in the frontline. From bitter winters when they fought for days on end from trenches, soaked to the skin, covered with mud amidst mortar raids and shelling, to encountering near death situations and seeing his comrades injured or dead, while living with the stench from unwashed bodies and floating corpses, Senerat Kadigawa experienced it all. For almost seven months he lived in trenches, unwashed with barely enough room to stretch. He could not forget the stench of the place for a long time.
There were many other distressing situations such as when the Army Chaplain was holding a funeral service for dead comrades. As they were nearing the end of the service they heard the low whistle of a German mortar shell and threw themselves to the ground. Getting up minutes later, they found the Chaplain dead. He too was buried there.
Another incident that he remembered with pride was when he and five others were chosen to destroy a power station in Greece that supplied electricity to German searchlights. Soon after an aircraft dropped them near Athens, they had to make their way on foot to the heavily guarded station. The bombs that they placed went off as scheduled the next day and along with reinforcements from other British bombers, completely destroyed the power station. However they were delayed in getting back to their pick-up point and were left behind.
With the Germans on their trail, the paratroopers had to break up and go solo. Food was a problem – he had to help himself to whatever he could forage from nearby farms. Being in hiding was proving to be a strain and the Nazis were zooming in on him for he had been sighted on occasions. At this point in time he came across a Mr. Constantinedes whom he initially mistook for a Nazi informer. Constantinedes turned out to be a secret agent of the Greek Resistance, working in the Ionian Bank. When the search for Kadigawa and others was intensified Constantinedes hid him under a bed upstairs on which one of his daughters lay pretending to be seriously ill thus saving him from arrest.
Having later found his way back to his camp, Mr. Kadigawa remains ever grateful to this man who risked his life in saving him, also helping him keep faith in the goodness of human nature. For this operation Kadigawa was presented the coveted "Oak Leaves".
Subsequently, Kadigawa and his comrades were again posted in Greece after the Nazis retreated to control the civil unrest. They opened soup kitchens to serve the hungry masses. In the queue Mr. Kadigawa was shocked to see the daughters of Mr. Constantinedes, his Greek protector who had gone bankrupt following the civil war. On his recommendation, the family was given all possible assistance.
Private Kadigawa was involved in several other battles to liberate Greece when several members of his battalion were lost. A stray bullet once brushed his ear, he recalls. "We could never say who would get shot. I had the good luck to escape without a scratch though we were in a highly operative field." Subsequently, while helping with restoring law and order in Athens, he was involved in some firing with the communists. Missing a grenade by inches, he reacted immediately, flinging another back, killing or injuring most of the group. For this he was awarded the Military Medal after the war.
In November 1945, he was awarded a certificate for "having won the full confidence of his superiors, for acts of gallantry and distinguished services". He also received a gazette notification of appreciation by the King of England for distinguished service. His name can be found in the Memoirs of Churchill and in the Red Beret, the history of the Parachute Regiment in the second World War.
After the war, Mr. Kadigawa joined the Ceylon Police Service and retired as Senior Superintendent of Police (Traffic) after 30 years of service. He married Manil Pilimatulawa in 1963 and has three daughters and five grandchildren. Asked what his experiences had taught him, he says, "I learnt how to stay alive without being hurt."
Kanchana Senerat Kadigawe
Nickname(s) – Raja, Kadee
Born – 1921 in Wanni, Ceylon
Died – 2008 in Kandy, Sri Lanka
Allegiance – Sri Lanka (Ceylon) / United Kingdom
Service/branch – (Scottish) 2nd Independent Parachute Brigade
Years of service – 1941 to 1946
Rank – Private 267305
Unit – 5th Battalion, C company
Battles/wars – World War II, Greece, Italy, Southern France, Greek Civil War
Credit – Meran Thineth, Esther Williams, Wiki Visually, Thuppahi's Blog, Charles Ameresekere