It's hard to believe this complex was once amongst the area's best known landmarks. When the Rio opened its doors in 1965, it was to offer Sri Lankans their first sight of a 70mm TODD-AO projection system. In the audience on the opening night was a man only a month away from his fourth – and longest – stint as Prime Minister (Dudley Senanayake) and a young girl who would go on to become Sri Lanka's President (Chandrika Bandaranaike Kumaratunga), 29 years later.
Rio was among the most successful cinemas in the city – many shows were sold out, even the balcony where a ticket cost Rs 3.20.
The first movie shown in Rio was South Pacific. It was the year 1965 and the opening screening of this state-of-the-art movie theatre was the highlight of Colombo's social calendar with ministers, movie stars and diplomats kitted all in attendance. A journalist from the Ceylon Daily News waxed lyrical about the venue, writing: "As for being an average theatre, the Rio is not…The seats are unobstructed, large and comfortable, upholstered in foam rubber and creamy-beige rexine, with satinwood arms…the movie vertically operated screen is a beauty."
In the years since, the complex has come close to demolition more than once. The family that owns it cannot decide what to do with it.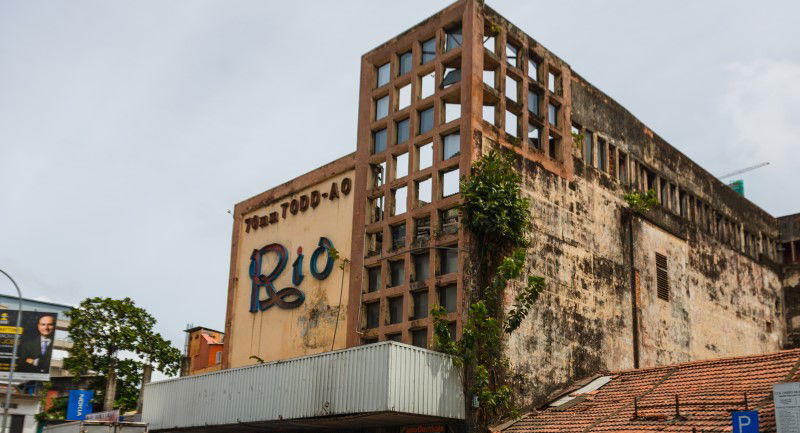 Ratnarajah Navaratnam, Mr Navaratnam's son, known to all as Thambi (meaning little brother, as he was the youngest of his siblings) and he was in Colombo in the July 1983. His parents Navaratnam and Rukmani were in India, and he is glad they were not here when the mob came.
He is from a family with respectable antecedents. (On his mother's side, his great-grandfather Sangarapillai was the founder of the Manipay Hindu College in Jaffna.) But his parents themselves were not rich to begin with. Thambi's father, Navaratnam, lost his own father very young. His father had been a soldier in the British army and, when he died, Navaratnam was forced to leave school to support his family. He began to work in Colombo with his uncle Thambyah, the successful owner of the city's first colour printing press.
Navaratnam was by all accounts a remarkably enterprising and hardworking man. He made a success of the business, multiplied his investments and raised loans until he was able to build the Navah Cinema, whose construction he oversaw himself, without the help of an architect. It was a process he would repeat with both the Rio Cinema and Hotel.
Navaratnam eventually became so experienced that he could, by instinct alone, instruct the builders on the proportions of sand, cement and water that had to go into the concrete mix. On nights when the builders worked all night, he stayed with them till sunrise.
His children remember their father as pious and stern – "a traditional Jaffna father" – but being the sons of a successful cinema owner had its benefits. People affectionately dubbed the Rio the R-10, and for a while that was also what Thambi's friends called him. He would write them little notes guaranteeing them free entrance into the theatre, but never so many that his father would notice.
If Navaratnam had an obvious soft spot, it was for the surrounding area. In English it is known as Slave Island, a name that many signboards still carry. But in Sinhala and Tamil it is Kompannaveediya/Kompani Theru or Company Street. The Beira Lake once encircled this space completely, and it was home to African slaves of the Dutch and Portuguese colonisers. Later it became a hub for traders and businesses and, to date, remains a pocket of incredible diversity within the city. Temples, churches and mosques are separated by the narrowest of streets, and the neighbourhood is thick with Sri Lankan Moor, Malay, Tamil and Sinhalese families, with Dutch Burgher in the mix.
Growing up, Thambi remembers his father's deep emotional investment in the surrounding communities. It was a rare cause to which Navaratnam did not generously contribute, he says, and he was even-handed with people of every faith. His car was always available on loan to locals when they needed it for a celebration or a funeral. According to Thambi, when the family asked him to move to a more genteel part of town, his father always refused. He would tell us
This is the area I grew up in, this is the area that I support, this is the area that I stand by and this is the area I want to grow old in.
In 1956, less than a decade after Sri Lanka won its independence, Parliament passed what is commonly known as The Sinhala Only Act. Many argue that this Act, which made Sinhala the only language of administration, was a nationalistic act of revenge for British colonial 'divide and rule' policies. It had many repercussions, notably forcing thousands of Tamil civil servants to resign because they could not work in the Sinhala language. Island-wide ethnic riots broke out for the first time in 1958. Tamil lives and property became the targets of Sinhalese mobs in the South and there were occasional retaliatory attacks on Sinhalese targets in the north and east. As a precaution during that time, Navaratnam uprooted his young family and moved back to the relative safety of Jaffna for two months. When they returned, everything seemed as before.
Acknowledging his father's "tremendous political connections," Thambi says there still seemed no need to call on them. "My father was a very stubborn, very proud man. He believed one had to work, to earn something. He would never ask for political favours." In any case, when something did happen, there was no political protection to be had.
Liberation Tigers of Tamil Eelam had ambushed and killed 13 soldiers in the north of the country. The very next day, a heated controversy around the return of the soldiers' bodies sparked a week of deadly rioting around the country and particularly in Colombo. Mainly Sinhalese mobs began to operate, seeking out Tamil homes and businesses to attack. Not long after that, the mob arrived at the doors of the Rio.
The rioters who came to the Rio were a mixed group, of Sinhalese people and Tamil-speaking Muslims as well. The mob was intent on stripping the property bare: they spent much of the day robbing the luxurious hotel of its furnishings and equipment and then, around sundown, set what remained on fire.
Navaratnam and his family had taken shelter at an upscale hotel close by, hoping the presence of tourists would give the authorities the motivation to fight off any mob. But they could see the smoke spiral into the sky from where the cinema stood.
Across the rest of the city, the attacks devastated homes, businesses and lives. Victims would say later that the organised mobs that arrived at their doorsteps were directed there by sheets of electoral registers. Among the Sinhala majority, conscience dictated choices – some were marauders, but friends and neighbours also stepped in to hide and defend their Tamil compatriots. Some 150,000 people are believed to have been made homeless, and the death count is disputed – various estimates place it anywhere between 400 and 3,000 people.
Black July, as it would later be known, is taken to mark the beginning of a civil war between Tamil militants and the government of Sri Lanka that lasted nearly 30 years. It also drove an exodus, as a great number of Tamils left Sri Lanka for the shores of other countries.
Mr. Navaratnam returned from India a few days later: on seeing what had happened to his life's work, he broke down and cried bitterly. Soon after that, he fell ill. In 1984, the family emigrated to Australia. Navaratnam never returned to Slave Island or to Sri Lanka. As he lay dying, Thambi says his father seemed immensely vulnerable. So distant before, he would now ask his children to sit by his side and simply hold his hand.
Today, the future of the Rio, indeed of the whole of Kompannaveediya, is uncertain. The cinema is a run-down ghost building with dark corridors showing seedy films. Tuk-tuk drivers do a double take when you ask to be dropped off here – the Rio Cinema is itself infamous as the host of adult films, all outdated and on an endless rota of reruns.
But in recent years Colombo's creative crowd has rediscovered Rio and the run-down cinema has become a popular venue for pop-up exhibitions, music gigs and even the prestigious annual art festival Colomboscope is using the barren walls, desolate hallways and iconic roof as a canvas for poetry, dance, music, and art.
According to a report by the Centre for Policy Alternatives (CPA) published in April 2014, the number of families to be relocated over the next few years under the city's Urban Regeneration Project is between 70, 000 and 135, 000 – again estimates vary widely.
Credit – Commonwealth Writers, iDiscover Asia, Life Online, Roar Media