In 1963 the Associated Electrical Company introduced the Sisil refrigerator. Sisil was the first refrigerator marque created in Sri Lanka. A result of one engineer, Gerry Wijesinghe. His vision was to create a product locally that would be as good as any other product made in Western countries.
Since its introduction in 1963, Sisil was the leading refrigerator brand in the Sri Lankan market; this continued until the 1990s, when Sisil lost its position to increasing number of competitive brands. This loss of market leadership crippled much of Sisil's manufacturing operations. Sisil's plant was closed in 1994, forcing the company to start importing refrigerators from India, which were marketed under the brand name Godrej Sisil.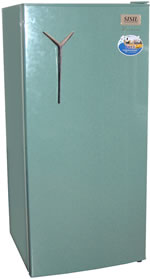 In 2001 Singer Sri Lanka purchased the brand at a cost of ₨ 55 million. The deal also involved the purchase of existing Sisil inventory for which Singer paid a further ₨ 40 million, bringing the total cost of the Sisil-Singer deal to ₨ 95 million. Singer continued to sell Sisil products through Sisil's existing dealer network as well as Singer's own distribution network. Currently Sisil products are manufactured by Regnis Lanka, Singer's local associate.
At the time of celebrating their 50th anniversary, Sisil started the search for the oldest Sisil Refrigerator to proudly present the celebrated loyal clientele to all.
During a period of four months, Sisil received nearly thousand applications from the Sisil fridge owners along with the details of the Sisil fridges which are still in working condition and even some having the warranty cards. As a result ten proud owners were selected and the group included the owners from the first Sisil Refrigerator batch manufactured in 1963. The rest of the winners from 1963-1964, expressed their views about Sisil showcasing their love towards the brand. As a token of gratitude, along with the launch of the Sisil Eco refrigerator series, Sisil arranged to reward them with a brand new Eco Sisil refrigerator.
Later Singer launched a retail network, Sisil World, which sells electric and electronic equipments of several imported and local brands.
Credit – Ramesh Perera, Wikipedia, Life on Code, Business Today