The late Tony Fernando was a pioneer in the field of popular music in Ceylon. He was truly an entrepreneur and was excited about popular music. He saw a gap in the music market in 1950s Ceylon and opened up the first ever shop selling records and radios called Tony's Record Bar, in Bambalapitiya. Tony Fernando went on to run the Lewis Browns recording studio and formed the hit making machine – Ceylon's first ever super group The Jetliners.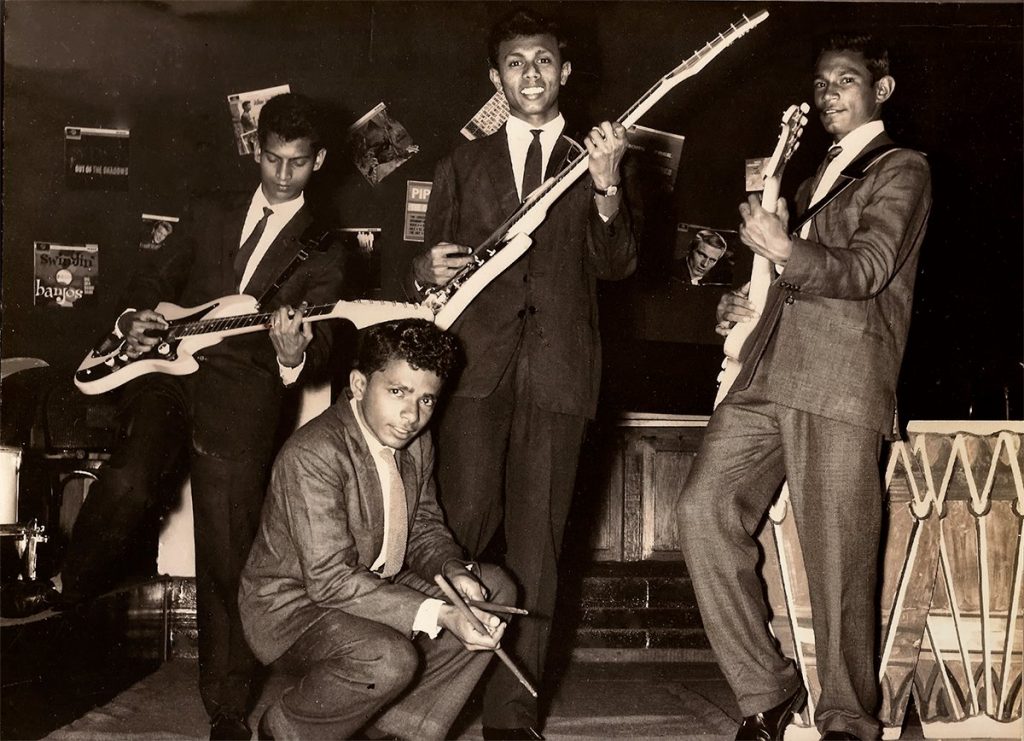 In 1961, Ishan Bahar, who was also known as "The Beatboy Extra-Ordinary", joined The Jetliners. Ishan appears in the second photograph above.
Later on young Mignonne Rutnam who had participated in a Radio Ceylon talent contest, joined the line up with The Jetliners. Tony Fernando was her first manager and then her husband. Mignonne and the Jetliners reached the top of the music world in South Asia and Southeast Asia. They proved to be an absolute hit over the airwaves of Radio Ceylon.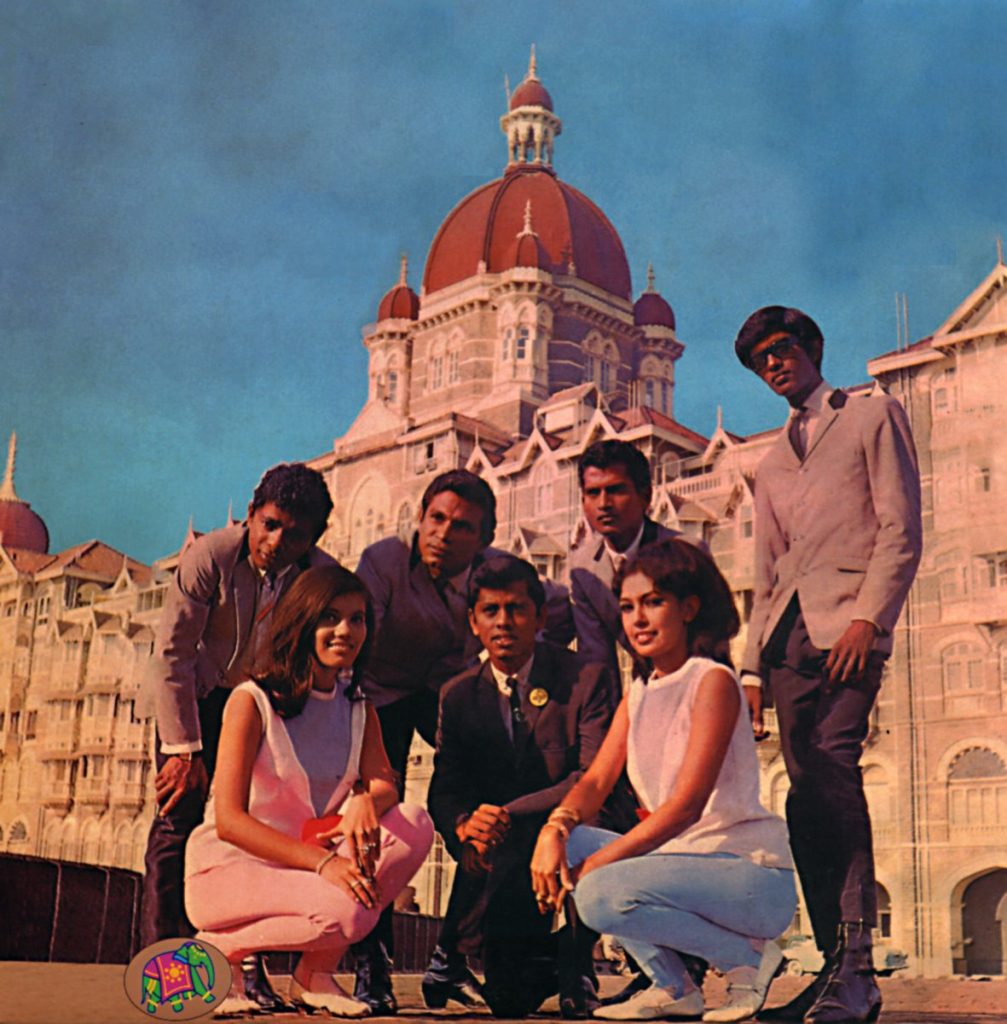 The Jetliners performed at the premier entertainment venue of Colombo, the 'Coconut Grove' at the famous Galle Face Hotel. Radio Ceylon also held their talent contests at the Coconut Grove.
They had some success in India and released one E.P. and two albums. "The Jetliners At The Taj Mahal Bombay" was their second LP and it contained exclusively cover versions.
In 1980, Mignonne & The Jetliners were awarded a 17-year contract in Hong Kong at the Regent Hotel. The group also performed in Singapore and Indian nightclubs, making a name for themselves in the Asian entertainment world under the management of Jetliner's Manager, Tony Fernando.
'Mangala Mohotha' is one of the most celebrated records in Sri Lanka. This song is about 'The day before the wedding', and it has almost become a theme song at every wedding in Sri Lanka.
Members
Indra Rajah – Lead Guitar
Anton Gunavijaya – Rhythm Guitar
Felix Fernando – Bass & Vocals
Harris Jurangpathy – Drums & Percussion
Mignonne Fernando – Vocals, Organ & Melodica
Loretta Koch – Vocals
Sohan Pieris – Vocals
Mignonne Fernando
Having won Radio Ceylon's Talent Contest at the age of seven, a year later Mignonne wrote her first music composition. Her father. Arnold Rutnam was renowned for his mathematical skills, and her mother, Marie, was a devoted and much loved teacher of music.
As a student of St. Bridget's Convent, Colombo 7, Mignonne scored First position in her class throughout, except the one term when she took ill and was placed second. She participated in Theatre Productions and played Goal for the School Netball Team with equal enthusiasm.
In 1969 she became the first Sri Lankan to be signed up by EMI Records UK, and Keith Prowse Music London. The Ceylonese 'Wedding Song' (Mangala Mohotha) was her first song to be copyrighted by KPM.
Her song "Love don't let me down" won the Embassy Award at the World Popular Song Festival where renowned composers and artistes the world over are invited to submit compositions. Of over 1,200 entries, only 10 were selected to be eligible for the award. Another original composition "Someday my love" won the Matsushita Award and Special Jury Award for Composer and Performer at the Festival of Song.
A Sinhala composition "Oba Nisa" was selected for the Finals of the 5th Olympiad of Song in Athens, Greece where it won the Gold Medal. "Coconut Man" made the finals of the World Popular Song Festival in Tokyo. This made her the only Woman Composer/ Performer to date to have been selected into the finals.
Watch this interesting interview featuring Mignonne Fernando, Rukshan Perera and Corrine Almeida done by Hi-TV on YouTube.
She released her first CD 'A Celebration Of Life' in 2003. Mignone now lives in Canada and is still performing occasionally.
Loretta Koch
Loretta hails from a musical family. Her father Fred Koch was a comedian and entertainer extraordinaire, mother Pam played the piano, younger brother Roger sang with the group, Justinians, and together with sister Pauline, Loretta took part in the Maliban Talent Quest, the talent show of the day in the 1960s. Her home was constantly filled with music and dancing, so it was no mistake that she was inspired and destined for the stage and singing.
The Coconut Grove, was the rocking hotspot where Loretta performed as a singing duo with Mignonne Fernando and other well-known Ceylonese crooners such as Alston Koch, Conrad de Silva and Sohan Peiris backed by the many talented musicians of the Jetliners band, cutting many vinyls, singles and LPs. Her musical story continued and her star continued to grow brighter until she quit the Jetliners and her successful singing career in Ceylon.
Loretta migrated to Melbourne with her parents in 1971, married, and then emigrated to settle in the UK, where she raised her family of two children, Amanda and Steven, with former Lipton Tea Group executive husband, Ivor Davies.
Her fans are hopeful that Loretta's singing drought has broken and that they will get to see her perform again
The lead guitarist Indra Rajah later moved to Switzerland and formed the bands "Indra And The Park Avenue Connection" and "Indra & Move It".
Vocalist Sohan Pieris is currently living in Hawaii.
Sadly I could not find any present information of the rest of the members. If you know further information or current whereabouts of them leave a comment below which will help others who read this.
The Jetliners have split up and members of the band are living in different parts of Europe and some in Sri Lanka. They had a series of very successful reunion concerts in Sri Lanka, United States and Australia.
Credit – Vernon Corea, Wikipedia, Sunday Observer, GooneWJ, Last FM, eLanka AU, Music of Sixties, Nihal De Silva, Ramdas Ragunathan