Healer. Doctor. Professor. Mentor. Founder. Professor Anton Jayasuriya was all of this and more. He dedicated his life to his work and the surrounding people, generously giving time to those who needed it most. For over 40 years Prof. Dr. Anton Jayasuriya of Sri Lanka treated more than 2 ½ million patients free of charge and trained more than 40,000 doctors in Complementary Medicines while publishing 99 books about Complementary Medicines, an inspiration to us all.
He was most known to people simply as 'Professor Anton,' rather than making formal use of his surname. During his life he made a tremendous impact with a legacy that lives on today. He also inspired not only those who worked with him in Sri Lanka, but also the students who came from all over the world to study with him.
Let's give people back health and a smile

Sir Anton Jayasuriya's life credo
Anton Jayasuriya was born on 20th June 1930 in Colombo, Ceylon. His parents were Don Caiten and Dona Jayasuriya. He was brought up on a coconut plantation close to Nattandiya, Chilaw; the former home to a local glassmaking industry. His primary and secondary education was at St Sebastian's College, Morotuwa.
Anton Jayasuriya's interests in Medicine and Humanitarian work started at an early age, when as a young man living in Sri Lanka he saw poverty and illness in a country with no healthcare system. Since its independence in 1948 Sri Lanka has striven to try and provide free healthcare and education.
He enrolled for the Medical College in Colombo at the age of eighteen and graduated as a Doctor in 1954 Magna Cum Laude (with great honour). Thereafter, he practised in various parts of Sri Lanka, including Galle, Ratnapura and Jaffna. Some time in the next two years, Dr Anton travelled to England where he worked for some time. He became a Post Graduate from Fellow at Guys Hospital from 1957 to 1959 and was also made a Fellow of The Royal Society of Medicine in 1957.
Anton Jayasuriya did not believe in using expensive drugs to deal with simple problems of the body, and during his early days as a Doctor an interest in Traditional and Alternative Medicines developed. This passion to help the poor and needy led to him seeking affordable and effective methods for treating sick people.
In 1962, he attended the W.H.O. (World Health Organisation) Conference in Alma Ata at the University of Kazakhstan. At this conference a United Nations global strategy for public health was developed and called 'Health for all by 2000 AD.' In particular this strategy wanted to make use of both orthodox and traditional healing systems.
Professor Anton himself was elected by the W.H.O to look into researching and teaching these various methodologies in pursuit of this strategy. His efforts together with Professor Jos Schade, Neurologist at the University of Utrecht in Holland, helped to create a teaching centre there.
However they realised that because of the high living costs in Western Europe, students from developing nations could not afford to attend the courses. In order to make this knowledge more accessible it was decided to move the teaching to Sri Lanka. It was placed under the Chairmanship of Professor Anton Jayasuriya, who founded the international organisation Medicina Alternativa. The teaching centre itself was held at the institute of Acupuncture at the Colombo South Government General Hospital, Kalubowila, Sri Lanka.
Despite the demands of his work in Sri Lanka Professor Anton was a tireless man who also worked around the world attending conferences and promoting his passion for acupuncture and alternative medicine. He also became an honorary member of many institutions globally. Over the many years he worked as a medical professional and authority on many other sectors of medicine, he hosted over sixty medical seminars and World Congresses in over 110 countries.
Anton Jayasuriya served as homeopathy doctor to Queen Elizabeth, free of charge. As patronization for his service, the Queen has gifted several exotic vehicles to him including a few Rolls-Royce cars.
During his work he was offered the position of Chief Consultant Physician at the Olympic Games for the Disabled in Canada (now known as the Summer Paralympics) in 1976 and The Olympics in Montreal in the same year. No Sri Lankan had ever or since then held this role.
Over his life, he worked diligently in many areas of the medical and healthcare community all over the world. His accomplishments are many and great.
In 1974, the Government of Sri Lanka and the W.H.O. granted Anton Jayasuriya a scholarship to study Acupuncture in the People's Republic of China. Here was the affordable and effective healing system he had been looking for. After receiving his certificate to practice Anton Jayasuriya embarked on a mission to teach the art of Acupuncture and Traditional Medicines. In 1987 the Open International University for Complementary Medicines (OIUCM or OIUCMED) was created with a special emphasis on intensive clinical training programme. In 1988 official recognition came from the Government to confer degrees to students. Since this time, into the hundreds of thousands of people from over 140 countries have been taught complementary medicine by him.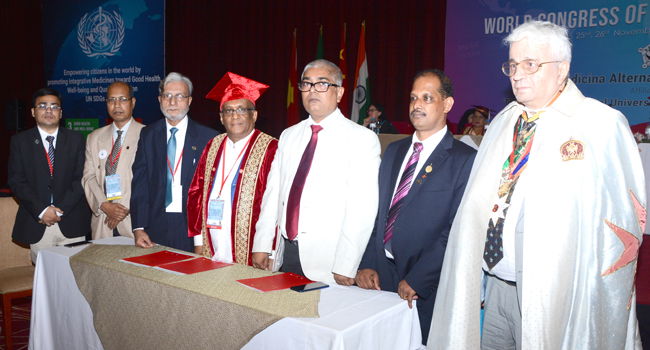 The money from these students enabled him to run a free treatment clinic for local people (where students also gained extensive clinical experience). To date more than 3.5 million people have benefited from his extraordinary vision and compassion. Today at the Anton Jayasuriya Memorial Clinic between 200 and 300 patients still come daily to receive this free treatment.
There is only one important person in the clinic – the patient.

Prof. Anton Jayasuriya
Using his skills as a Western Medical surgeon combined with his skill in Acupuncture, Professor Anton pioneered the world's first Caesarian section through the use of Acupuncture as an anaesthetic. He also demonstrated the use of acupuncture as a dental anaesthetic when having one of his own teeth extracted, which was filmed for students to see. Over time, he supported surgeons to use this practice in their own theatres. Many surgeries adopted these methods, which demonstrate the effectiveness of Acupuncture. Despite his successes, Professor Anton set an outstanding example of humility and dedication to the greater good, for all to follow. Combining his roles of Chairman of the OIUCM and the many responsibilities that required his attention, he still made the patients of his clinic a top priority.
He was a firm believer in service without fail. Come rain or sunshine, Anton made his way to the clinic every morning and evening. He took trouble to instill these disciplines in the clinical practitioners and staff at his clinic, and worked till his last day on earth.

Professor Lakshmann Madurasinghe
Despite the pressures of his work locally and internationally he managed to be the author of over ninety-seven books in various areas of alternative medicine such as acupuncture, homeopathy, bach flower remedies, Taoist philosophy, clinical psychology and the future of complementary medicines – he even had a small publication entitled Laughter is the best Alternative Medicine. His Manual of Clinical Acupuncture has to date sold more than one and a half million copies worldwide.
On the 6th of April, 2005, before leaving to his daily work to see his patients and students, Professor Anton Jayasuriya died unexpectedly. He was found in his room at his Wellawatte residence at International Buddhist Centre Road around 6am on a Wednesday. He was 75. Following his last wishes, he was buried according to his requests that the funeral should be held inexpensively, with a simple coffin on the same day of his death.
Anton Jayasuriya Automobile Museum
Professor Anton and his brother, Joe had a strong passion and admiration for classic cars. Their love for vintage automobiles is omnipresent in everything they did. They steadily grew their classic cars into an amazing collection which was one of the unique, varied and largest in Sri Lanka.
Anton and Joe cruised around Colombo in these marvellous vehicles during their days.
After the passing of Anton, Joe made a decision to build a home for these vehicles at Kitulgala. The fantastic car collection was housed in a special hall at the Plantation Hotel in Kithulgala, away from the damaging salty air. The entire collection was later bought by another car collector who added those cars into his collection in Badulla.
He has left us an indelible legacy to those he leaves behind and still follow his work, through his teaching skills and his teaching programme which continues today. His work continues through the knowledge and ethics he instilled in his many students and friends, spreading the benefits of alternative medicine to help sick people all over the world. Today he is remembered as a great master and founder of complementary medicine and one of the international luminaries of acupuncture.
In 2007 Professor Anton Jayasuriya was posthumously awarded the United Nations Millennium Award by UN Secretary General Kofi Annan for his contribution to humanity throughout his life.
His work was honoured in Sri Lanka at the 51st World Congress held in 2013, bearing testimony of his great contribution to Complementary Medicine. Following his death, the hospital through which he worked was re-named the 'Anton Jayasuriya Memorial Hospital.' Professor Anton worked ceaselessly towards a better and brighter future for those who were suffering ill health.
Credit – OIUCM, Medicina Alternativa Sri Lanka, Medicina Alternativa Europe, Trio Resorts, Steven Popkin