The Sri Lankan Architect Geoffrey Bawa is now regarded as having been one of the most important and influential Asian architects of the 20th century. Bawa came to architecture late, only qualifying at the age of thirty-eight in 1957, but he soon established himself as Sri Lanka's most prolific and inventive architect, establishing a whole canon of prototypes for buildings in a Tropical Asian Context.
Although best known for his private houses and hotels, his oeuvre also includes schools and universities, factories and offices, public buildings as well as the new Sri Lankan Parliament.
Geoffrey Bawa was born on 23 July 1919. His father was Justice B. W. Bawa, a wealthy and successful lawyer, of European parentage, and his mother, Bertha Marianne Schrader, was of mixed German, Scottish and Sinhalese descent. He had one older brother Bevis Bawa who became a renowned landscape architect.
He was educated at Royal College, Colombo after which he studied English and Law, 1938, at St Catharine's College, Cambridge gaining a BA (English Literature Tripos) and went on to study law at Middle Temple, London becoming a Barrister in 1944. Returning to Ceylon, after World War II, he worked for a Colombo law firm. After the death of his mother, he left the profession and soon left in 1946 to travel for two years, going to the Far East, across the United States, and finally to Europe and almost settling in Italy.
During his time in Italy, he planned to buy a villa and settle down, but that did not happen, and by 1948 he had returned to Sri Lanka. Bawa bought an abandoned rubber estate on the south-west coast of the island between Colombo and Galle at Lunuganga, planning to create an Italian garden from a tropical wilderness. However, he soon found that his ideas were compromised by his lack of technical knowledge. In 1951, he was apprenticed to H. H. Reid, the sole surviving partner of the Colombo architectural practice Edwards, Reid and Begg. In 1952 Reid died, but Bawa still aspired to a career in architecture, so he returned to England, after spending a year at Cambridge, he enrolled as a student at the Architectural Association in London.
There he gained a Diploma in Architecture in 1956 and in the following year he became an Associate of the Royal Institute of British Architects. To this day he is remembered as the tallest, oldest, and most outspoken student of his generation at the Architectural Association School of Architecture. In 1957, at the age of 38, he returned to Sri Lanka as a qualified architect to take over what was left of Reid's practice.
Returning to Ceylon, he became a partner of Messrs. Edwards, Reid and Begg, Colombo in 1958. In 1959, Danish architect Ulrik Plesner joined the firm, and the two designed many buildings together in their distinct style, sometimes called "tropical modernism."
Bawa's work is characterized by sensitivity to site and context. His work is instinctively, rather than self-consciously, sustainable. His designs break the barriers between inside and outside, between buildings and landscape, and he characteristically links a complex series of spaces – rooms, courtyards, loggias, verandahs – with distant vistas in a single scenographic composition.
Although Bawa was involved in the design of at least twenty-five private houses, several have been demolished and many more have been compromised by insensitive alterations. Today only a few survive in their original form: the A.S.H. de Silva house in Galle, the Raffel House in Ward Place, the Bandaranaike House at Horagolla and in Colombo the de Soysa House and the Jayakoddy House. 
Few of Bawa's houses were open to the public and several have never been properly documented or published. Nevertheless, his designs were enormously influential and had a big impact on the housing aspirations of a whole generation of urban Sri Lankans.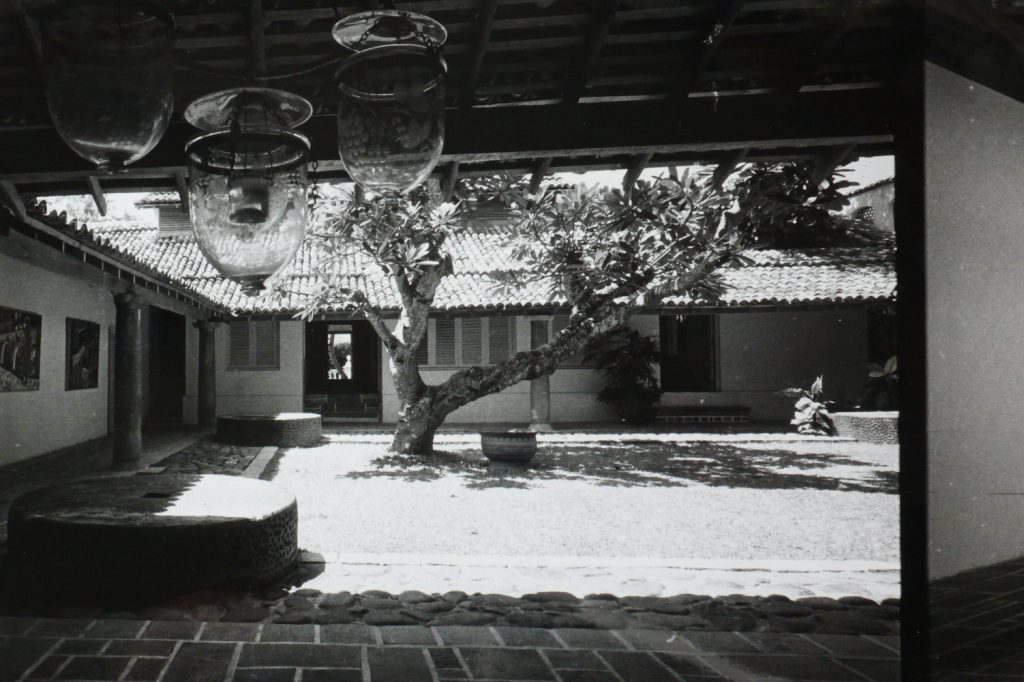 Between 1965 and 1997 Bawa produced designs for thirty-five hotels. Of those intended for Sri Lanka, thirteen were built but only five – the Triton (Heritance Ahungalla now), the Neptune, Kandalama, the Lighthouse and Blue Water – still accurately represent Bawa's original design intentions.
The Bentota Beach Hotel was arguably the first in Asia to offer an alternative to the banalities of international hospitality architecture and proposed a building which responded to site, climate and tradition – a building which was 'of its place'. The hotel was set on a mound between the river and the sea on the site of a former Dutch fort. The ground floor entrance area and service wings were contained within a massive stone rampart while the reception rooms were arranged around a courtyard at first floor level with two levels of bedrooms above them.
During the 1990s came a final outburst of creativity which produced the astonishing belvedere at Kandalama, the rugged ocean-defying Lighthouse in Galle and the urbane Blue Water at Wadduwa.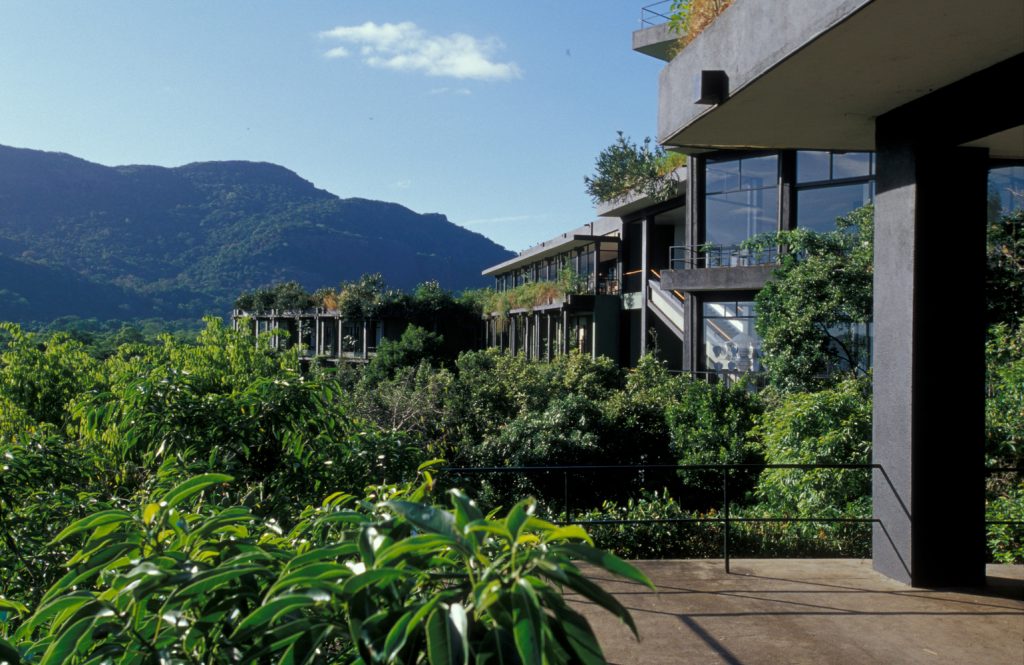 One of Bawa's most impressive achievements has been the Lunuganga, which he has slowly fashioned for himself from an abandoned rubber estate over a period of fifty years.
Bawa's personal architectural odyssey began in 1948 with the purchase of the rubber estate near Bentota which he renamed Lunuganga. The project to transform this into a landscaped garden took up most of his spare time and money. It was here that he experimented with interplay between building and landscape, between inside and outside space.
The result was a series of outdoor rooms conceived with an exquisite sense of theatre as a civilized wilderness set within the great garden of Sri Lanka and one of the most important Asian gardens of the 20th century. 
Geoffrey Bawa died in 2003 and was cremated on the cinnamon hill of his Magical Garden. In 2001 Bawa received the special Chairman's award in the eighth cycle of the Aga Khan award for architecture, becoming only the third architect to be so honored since the awards inception.
Geoffrey Bawa influenced a generation of architects in Sri Lanka after him, but his legacy was also embraced in Asia and around the world. He has influenced many architects worldwide including Singapore-based Australian architect Kerry Hill.
Here, then, is the unanswerable conundrum – what transformed this slightly wayward and aimless dilettante into such a committed architect?  Wherein lay his genius?  What was the source of his inventiveness? We shall probably never know.
Credit – Geoffrey Bawa Trust, ArchDaily, Wikipedia