Kanagasabai Gunaratnam, pioneer film producer and chairman of several companies, was born on 30th July 1917 in Athiyadi. His ancestors were from Nallur, Jaffna.
Starting from humble beginnings in the cinema industry, he rapidly achieved a leading position. When the production of Sinhala films ceased in India, he boldly pioneered a film production studio in Ceylon and made a success of the venture. He is said to have produced over twenty five Sinhala films during the first few years of operation. What is more, Cinemas were organized all over the island for showing the films.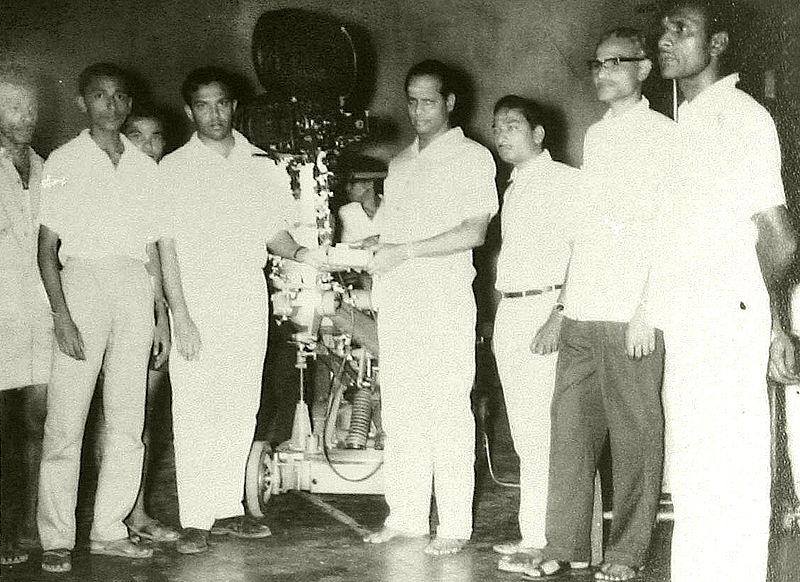 With all these activities he became popularly known as 'Cinemas Gunaratnam'. He did not stop with the film industry, but rapidly embarked on a variety of ventures. He diversified into other industries. He pioneered the corrugated carton industry and the manufacture of the ball point pen. The 'K.G' fountain pens produced in his factory soon became popular with students all over the country. The plastic wares industry was a field in which he excelled. The production of asbestos cement corrugated sheets was another of his lucrative undertakings. Eventually he was associated with the following: as Chairman – Cinemas Ltd., K.G. Group of Companies, Fuji Graphics Ceylon Ltd. And Photo Kina Ltd.
As Managing Director – Cine Sounds Sales and Services Ltd., Union Carbide Ceylon Ltd., Asbestos Cement Industries Ltd., Alhambra Hotels Ltd. And United Spinning and Weaving Mills. Besides the above, he was a Director of several others. He passed away under tragic circumstances on 9th August 1989." Gamini Fonseka, the doyen film actor of the Sinhala film industry. He openly organized the funeral arrangements and walked with the children of K. Gunaratnam in the funeral possession, regardless of cautioning by several persons, and undeterred in the face of the fear psychosis created by the Southern insurgents." Because of his friendship with Gamini Fonseka, he named his film hall at Maradana Darley Road, as Gamini Hall. Some of Sinhala film actors were jealous of his success unlike Lester and Gamini. Because of this, they forced Mrs. Bandaranayake to takeover the film industry from Mr. Gunaratnam, Mr. Gardinar and Mr. Cader and establish Film Corporation. Commencing business in the film industry, he became Sri Lanka's most successful film producer, distributor and owner of a chain of cinemas islandwide. He nurtured several personalities in the Sinhala film industry, including Eddie Jayamanne, Rukmani Devi, Ananda Jayaratne, Sandya Kumari and the legendary Gamini Fonseka. One of his very popular productions was 'Sandeshaya', with the hit song 'Poorthugisi Karaya' by Arisen Ahubudu. Lester James Peiries made a name as the director of this film.
Mr. Gunaratnam produced over 25 films including Sujatha, Warada Kageda, Radala Piliruwa, Duppathage Duka, Wana Mohini, Sooraya, Weera Vijaya, Divarayo, Allapu Gedera, Chandiya, Oba Dutu Da, Ataweni Pudumaya, Lakseta Kodiya, Athma Puja, Hodai Narakai, Sandeshaya etc. Some of these films were lost forever in the Black July riots of 1983.
Mr. Gunaratnam had also diversified into industries, manufacturing ballpoint pens, corrugated cartons and plastic containers. He developed a state of the art yarn spinning and weaving mills at Ja- Ela with 24,000 Swiss Reiter spindles. This was expanded into weaving with 200 Picanol water jet looms, with 100 looms imported in June 1983 and temporarily stored at the Hendala industrial complex until foreign engineers installed them at the weaving mills in August 1983. The Hendala complex included the Vijaya Studios where films were produced. In addition he had studio facilities at Kirula Road, Colombo 5.
The Hendala complex had just been developed with ultra-modern machinery and technology, with the head office being at Sri Sangarajah Mawatha, Colombo 10 which also had a printing press and with the original Cinemas' head office being at New Chetty Street.
A very large stock of paper reels and plastic granules had been stored at the Hendala complex. On the night of the riots Mr. Gunaratnam was chased away from his luxurious house at Bullers Road by goons. Luckily it did not catch fire. He managed to take refuge in the then Holiday Inn Hotel where he was a Director.
The Hendala industrial complex was set ablaze and the fire lasted for over two weeks, with the huge stock of paper reels and plastic granules, also destroying the 100 brand new picanol looms which had no insurance as they were awaiting installation at the Ja-Ela mills. Mr. Gunaratnam lost over Rs. 200 million (the value at that time). He shifted to a small house at Barnes Place. Mr. Gunaratnam was the main owner of the Tower Hall, formerly known as 'Tower Talkies' which developed Sinhala drama and artistes. When President R. Premadasa requested for these premises, he unhesitatingly gifted it to the Government. Today Tower Hall Theatre has been developed with no mention, whatsoever, of this invaluable philanthropic donation by Mr. Gunaratnam. It ought to have been named after him.
When President R. Premadasa made a historic visit to Jaffna, Mr. Gunaratnam personally went to Jaffna and I accompanied him. He got huge posters of President Premadasa put up on trees lining the roads in Jaffna,using his staff of the Wellington Cinema in Jaffna and organized a warm welcome reception for the President on his arrival at the Palalay Airport, Jaffna. On the other hand, he entertained lavishly, and every Thai Pongal he held a grand dinner at his Bullers' Road home for a large circle of persons who interacted with him. The crab curry would be flown in from Jaffna. He moved with various politicians including Hugh Fernando, Maithripala Senanayake, T.B. Illangaratne and the Ratwattes. Albert Page of Ceylon Theatres, though a competitor, was a very close friend with whom he used to have a regular get together with him. It is indeed an unforgivable tragedy that a man who made such yeoman contribution to develop Sinhala areas, the Sinhala film industry, artistes and the people by giving them employment, was slain so brutally.
Credit – ‎Sukumar Shan‎, Sarojini Gunaratnam