An angel who left the world at an unacceptable age! Her parents agreed not to hold on, but to turn off her life-support.
Ramani Elizabeth Bartholomeusz born 1 September 1966 was a Sri Lankan model and actress. Having been crowned Miss Sri Lanka in 1985, she represented Sri Lanka at the 1985 Miss Universe pageant.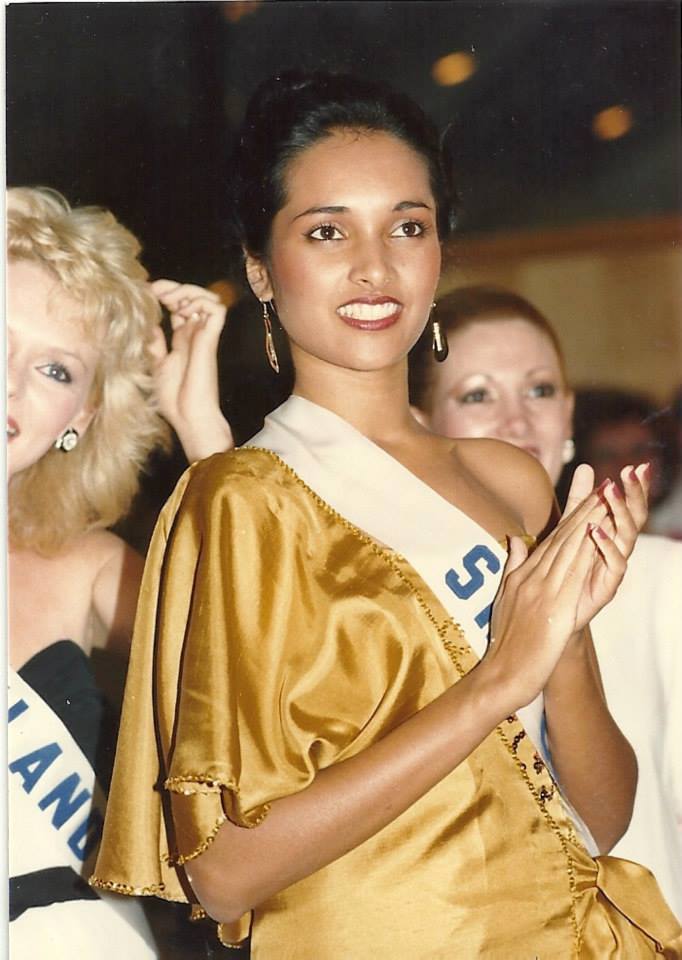 Ramani was born to Kamala and Leslie Mark Bartholomeusz in Gampaha. Her father Leslie too was a well known documentary film director, broadcaster, journalist and author. She has three sisters, Marie Bartholomeusz, Dileene Bartholomeusz, Reneira Bartholomeusz and one brother, Mark Bartholomeusz. She completed her education at Holy Cross College, Gampaha.
Fast forward this video till 5 minutes and 54 seconds (5:54) and you will find the Ramani Bartholomeusz at the 1985 Miss Universe Parade of Nations.
Featuring in a film of the prodigious Lester James Peiris was a dream of any actor or actress. Ramani at the very fledgling age of 16 was one fluky girl to obtain that prestigious tag. She was in for her first movie in 1983 Yuganthaya (English title: End of an Era) and acting alongside the mythical Gamini Fonseka was also something she would have cherished. She took part in the 1985 Miss Universe contest and continued her acting afterwards. Next was Makarakshaya and she then paired with Kamal Addararachchi in Hima Kumari. Soon she was the poster girl of Sri Lanka.
All the newspapers in the island were in a hurry to have her picture as the cover photo of their paper where she was also the first model the advertising companies would contact. Some of her most popular television acting came through Bhagya, where she co-acted with Ranjan Ramanayake. She was widely popularized with the song Aji Thapara Lahila sung by Deepika Priyadarshani. Then she made main roles in Irata Hadana Mal, Himakumari, Salalihini Gammanaya. She also appeared in the musical program Hada Bandi Gee telecasted by Rupavahini.
She passed away in an unfortunate way when she was 21 years old in 1987. It was reported that her death was caused by an accident. Her boyfriend, Kamal Addaraarachchi has visited her one night a little late owing to a busy work schedule and they have fought over this reason or the other which has made Kamal to leave her. She has jumped over his vehicle to stop him and her head had got injured. She has died after a few days after been hospitalized.
Many rumours were spread during the time of her death. Some rumours were that she was pushed down from the vehicle by Kamal and some rumours were that she would have jumped off the vehicle after a fight. Majority believed that she would have got injured as she would have tried to stop the vehicle.
On my way from work, I stopped at Ramani's. I got really late and Ramani was mad about that. I got into my vehicle and turned the vehicle to go back. She would have hung trying to stop the vehicle. All of a sudden I heard a huge noise. I stopped the vehicle and I saw her fallen on the ground.

Kamal Addaraarachchi
To date her death is a bombshell and a mystery to many. Only Kamal would have the answers to it. He was not proven guilty anywhere and this was an unfortunate accident.
Ada eyaa Nethi unath adaraya novenasva thiyenawaa….! Adaraya kerapu adaraya denena hadawathakata kohomawath puluwanda thaman adaraya kerana kenekuwa maraa damanna tharam darunu sithak ethi keraganna..?

Kamal Addaraarachchi
"Even though she is not here today, the love remains unchanged. Can a heart that loved and that felt love, hearden themselves to kill someone?" This was a post from Kamal a couple of years ago on Facebook. He still mourns and thinks about his lost love.
Credit – Wikipedia, Sri Lanka Mirror, Gossip Lanka News, Vimukthi Adithya