In an era where conservative fashion was the norm, one of Colombo's young lasses had the temerity to escape from the shackles of conservatism and create a new identity for herself, thereby setting the trend for many others to explore and experience the daring and adventurous nature of fashion. Blessed with an ethereal beauty and contours of a catwalk model, Yvonne Toussaint, the loving daughter of Royston and Mavourneen Toussaint bore all the hallmarks of a model.Delicately petite and blessed with an abundance of beauty, Yvonne started her life as a cabaret dancer who then met and married her handsome prince Onally Gulamhusein.
A true trendsetter of that bygone era Yvonne Toussaint dazzled everyone with her beauty and charm. Hobnobbing with the likes of Sri Lankan Prime Ministers and visiting dignitaries such as the Queen, the Aga Khan, and US President Richard Nixon to name a few, Yvonne cut a dashing figure with her eclectic fashion sense.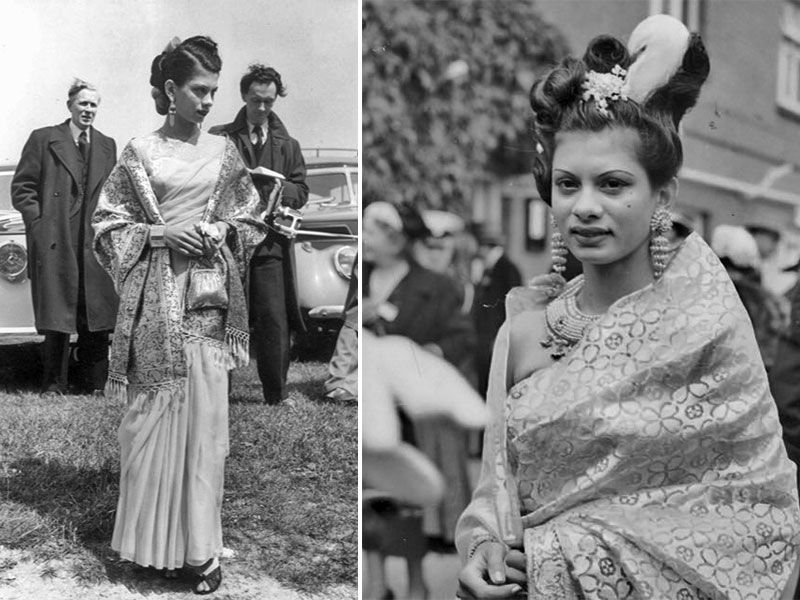 Growing up in the austere days of the second world war and then enjoying the post independence era Yvonne lived her life in one of the most decadent social times in Sri Lankan history. In her day Yvonne was considered the ultimate Colombo IT girl, dominating the social scene while being the cynosure of all eyes.
During a time when demure modesty was de rigueur Yvonne was one of the very few women who dared to compete in a Bathing Beauty competition. Clad in a skimpy two piece bikini Yvonne, the people's favourite choice emerged triumphant, winning the Queen of the Bathing Belles title causing one male member of the audience to swoon! At the height of conservative fashion escapades such as this was unheard of! This was the nature that epitomized the daring sense of fashion in Yvonne Gulamhusein.
"Yvonne Toussaint's costume was an overnight job," The Times of Ceylon reported on May 27, 1946. She won the title at what the Times said was an "all-day picnic arranged by Ceylon Tours."
"The five lovelies who posed before the judges first paraded to the edge of the sea, then turned and posed again. But the onlookers had already made their choice, with one yell they wanted Yvonne and screamed,
Number five! number five!! Yvonne, we want Yvonne!
Fortunately the judges agreed and told that she was the winner. "A man swooned in the midst of the crowd which swept forward to congratulate her," the Times reported naming the three judges as Mrs. J. C. Kelly, Mr. R. F. S. de Mel and Mr. J. D. A. Perera, the Colombo painter.
Yvonne had kept a scrap book from 1945 repeat with clips reporting her many achievements as a dancer, beauty queen, cover girl and fashion icon. Leafing through her copious press cuttings it is fair to say Yvonne's fashion was mainly effortless, chic, not contrived nor strictly structured.
Yvonne Toussaint's ability to turn heads was not only confined to Ceylon. Being part of society's jet-setting strata, she travelled the world. At the Royal Ascot race in the United Kingdom she earned some column inches in the British Press who were mesmerized by her Eastern allure clad in saree.
The Gulamhuseins' had a deferred honeymoon, and sailed on the RMS Queen Elizabeth to London. Yvonne attended races at Ascot, and in her dainty sarees and striking hair-dos, where even with many beauties vying for honours, the petite Mrs. G, was the cynosure of all eyes. Yvonne was presented to the Queen in 1954 (who first visited Ceylon as Princess Elizabeth and then returned as the Queen after the death of her father) at the Queen's House
The dashing and debonair Onally Gulamhusein who won Yvonne was also able to convince the wealthy Borah community to which he belonged to accept what at that time would have surely been considered an unconventional marriage. Gulamhusein recalled that it was the head of his family, who was also the then head of the community, who gave her away at the wedding.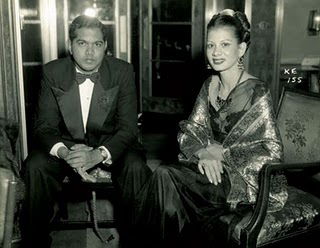 Yvonne and Onally were part of the jet set in the post-Independent Ceylon. They were great friends of Sir John Kotelawala, who later became Prime Minister after Dudley Senanayake. She was part of the smart set of women who formed a fan club around Sir John, and were dubbed the 'Purple Brigade'. They partied with the likes of Viscount Soul bury, the then Governor General of Ceylon. Aga Khan was a dear friend of the couple, and visited them twice in Ceylon.
Yvonne and Onally Gulamhusein had a rock solid marriage which lasted more than 60 years and Gulamhusein, during the last lap of his elegant wife's life accepted no invitations or social engagements after 6 p.m. as he wanted to be with her after the domestics were gone.
They lived in a ranch style house, with sprawling gardens in the heart of the city; the mansion was called 'El Patio Yveony' and many were the memorable parties hosted there to the jet set of the day.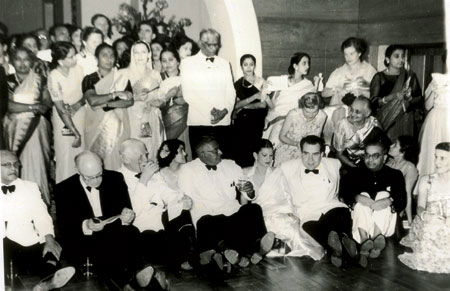 In her later years still very much part of the Colombo scene, Yvonne took to writing her own fashion column for the Sunday Times. She enjoyed this immensely and had all the requirements to be a fashion commentator having been immersed in fashion for all of her life.
Despite her age, Yvonne looked as elegant as always as like in repose and many old friends gathered to reminisce about the remarkable life of the dancing teacher who became the country's best known and most photographed fashion icon of her day.
Looking through archived photos of Yvonne Toussaint it is evident that she was a woman who was keen to push the boundaries while being true to her unique sense of style. A paparazzi's dream Yvonne never failed to disappoint
It provides a fascinating insight to an age now gone – with old black and white photographs of herself and others at the races and social events. Few people will now remember that Yvonne was the third Ceylonese girl to fly an aircraft solo – being preceded in that feat by Miss Croning and Miss Jennet Vairakiam.
I was thrilled, it was so unexpected too. For several weeks I was expecting to do my solo and every time either the plane was out of order or the weather was unsuitable so that I had given up anticipating.

Yvonne (Ceylon Observer, December 29, 1948)
A true icon of fashion coupled with a sublime classiness, Yvonne Toussaint – Gulamhusein, a lithe sylph-like beauty with her engaging nature and daring sense of fashion ensured her place in the fashion spotlight, especially during the halcyon days of the Raj and thereafter.
When Yvonne Gulamhusein passed away on the 12th of July, 2010, it marked an end of era. She was a legend in her lifetime – as a very young delicate and petite beauty, who started life as a cabaret dancer, married her handsome young prince and lived her fairytale life!
A true style icon and legend that epitomized a heady fusion of Eastern and Western fashion.
Credit – FamilyPedia, The Island, Daily News, Hi Online, Nihal De Silva