Mudaliyar Thomas Rodrigo was a remarkable entrepreneur. Following the First World War, Mudaliyar Thomas Rodrigo purchased controlling interest in the Pagoda Tea Rooms. The origins of the tea rooms lie in the Ceylon Tea Kiosk established in 1884 in the Jetty of the Colombo Harbor by some enterprising planters. The Ceylon Tea Kiosk relocated in several places, changing its name to Pagoda Tea Rooms in the process, and finally settled in Chatham Street.
By this time, the Colombo Fort had become the capital's central business district and a hub of activity. Leading trading companies, publishing houses, government offices and department stores were all located in the Colombo Fort. The bankers, brokers, journalists, mercantile executives, civil servants all patronized the Pagoda Tea Rooms during lunch time. These gentlemen would form groups according to their profession and had tables of their choice especially reserved for themselves. Ladies would also visit the Pagoda Tea Rooms for refreshments during their shopping expeditions.
Thomas married Emily Roslyn Fernando from Beruwela and had three sons, Cyril, Percy and Leslie and five daughters, Gertrude, Rita, Beatrice, Ena and Ethel. His son Cyril Rodrigo carried on the family business founded Cyril Rodrigo Restaurants, which started the Green Cabin franchise in Sri Lanka.
While Mudaliyar Rodrigo had invested his wealth in the business, the results were not to his expectations and he then requested his eldest son Cyril Thomas Rodrigo to participate in the business.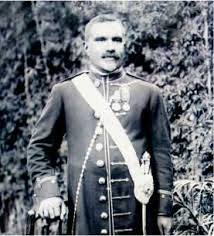 Young, energetic and fresh from his college learning, Cyril took up the challenges and immersed himself in the operations of the Pagoda Tea Rooms. Like his father he found himself totally conversant with the business and would innovate, experiment and create new items on the menu. During his time Sri Lankan food items were introduced into the menu. The now famous rice and curry lunch as well as the famous 'cheese cake' (with no cheese) found only in Sri Lanka, were items brought in by Cyril.
As the worldwide depression of the 1930's took its toll, the Pagoda Tea Rooms also suffered and Mudaliyar Thomas Rodrigo was unsure of the future of his investment. Cyril who was already in the business volunteered to purchase his father's business with the help of his wife's family. He focused on the management of the Pagoda Tea Rooms and developed new lines of business. Catering to receptions in all parts of the island was one such activity. His wife Mallika was a natural in the culinary art. Her innovative contributions, support, belief and good fortune were great strengths to Cyril.
Credit – Sukumar Shan